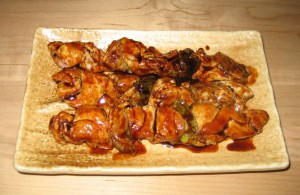 Restaurant: Sushi Zushi
Location: Domain, 3221 Feathergrass Court, Austin, TX 78758 Map
Phone: (512) 834-8100
Price: $8 – $20
Hours: Mon-Thurs 11:30am – 10pm, Fri 11:30am – 11pm, Sat 12:30pm – 11pm, Sun 12:30pm – 9pm
Food (6/10)
(5/10) Chicken Yakitori
Broiled chicken (dark meat) skewered on bamboo and topped with a thick rich house special sauce. We were very disappointed by this yakitori. Since it is dark meat chicken, we expected it to be juicy and flavorful, but was the complete opposite. The chicken was tough and dry, and even the sweet sauce couldn't fix this up. If you want some mouthwatering yakitori, check out Kenobi.
(6/10) Green Mussels Dynamite
Baked green mussels topped with spicy mayonnaise, eel sauce, and chives. These mussels are detached from the shell, so they are easy to eat. It is a little tougher than other mussels we have had, but the plus-side is that they are not slimy. They come smothered in a very spicy and flavorful blend of sauces, so keep a glass of water handy, because you may need it! This dish is all about the sauce, as it would make cardboard taste good.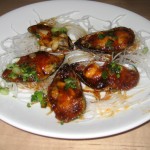 (7/10) Tuna Tataki
Seared tuna, raw on the inside and served with special joy sauce and chives. This tuna came out as described – seared on the outside and raw on the inside. It tasted very fresh and tender. The sauce had a mild flavor which allowed the natural flavors of the tuna to shine. Overall, a solid choice.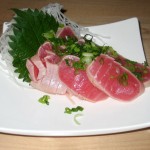 (8/10) San Antonio Roll (Riceless)
Rolled in a fine sheet of cucumber & fresh salmon with spicy kanikama crab, kaiware sprouts and chives. We were intrigued when we saw this on the menu and had to order it. For those of you looking for a roll without all the carbs, this is for you. Instead of rice, this roll is made with cucumber. This actually made the roll light and refreshing to eat. All the ingredients blended well together to create a very well-balanced roll. The sushi was fresh and the crab added a nice touch of spiciness. We definitely recommend this unique roll!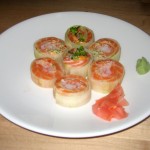 (8/10) Spicy Salmon Roll
Salmon with spicy mayo, kaiware sprouts and chives rolled uramaki style. This roll sounds generic, but don't let the description fool you. For a simple roll, this actually turned out to be quite savory. The combination of the tender salmon and the creamy spicy mayo will leave you wanting more. We did notice that this roll was a bit heavy on the rice which detracted from the texture and the seaweed was a slightly chewy. Nevertheless, this roll is a winner (especially during happy hour).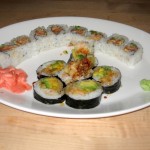 (4/10) Key West Roll
Shrimp tempura, avocado, cucumber topped with tasty eel sauce. This was one of our least favorite rolls. For some reason it tasted like paint and the seaweed was extremely chewy. Beware, this poses a choking hazard! The shrimp by itself was good, but of course anything tempura fried would have been tasty. Stay away from this roll!
Service (8/10)
We dined at Sushi Zushi on a weekday for happy hour. When we entered the restaurant, we were greeted by the hostess and taken to our table. Surprisingly, the restaurant was nearly empty even though it was during the heart of happy hour. Our waitress gave us what seemed to be a stack of menus (regular, happy hour, yakitori, drink, etc.) and took our drink order. If you haven't seen the Sushi Zushi menu before, anyone will tell you it is crazily overwhelming. It has so many items on it, you will get a headache looking at it. Needless to say, we had many questions about the menu, but our waitress was very helpful in answering them. She explained how the menu was broken down, and told us which items are good and which to skip out on. We appreciated her honesty because many waiters seem to recommend everything on the menu. We were checked up on regularly throughout our meal and our waters were refilled promptly. The service gets too thumbs us!
Ambiance (7/10)
Sushi Zushi is located in the newest phase of the Domain shopping center. The ambiance and modern decor is reminiscent of downtown sushi restaurants. It is hip and airy, with upscale accents such as smooth rocks on the napkins that are on the plates. It is well lit, and good for couples or larger groups. There is outdoor seating, half booths, tables, a sushi bar and also an alcohol bar. It seems like a fun place to unwind after a long day at work. We suggest you come during their happy hour specials and order a few specialty rolls as well. Don't expect amazing sushi, but do expect an immense menu offering a variety of interesting sounding items!