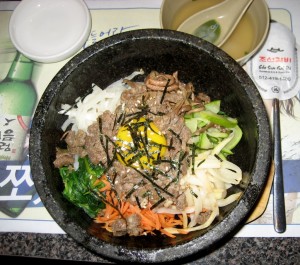 Restaurant: Cho Sun Gal Bi
Location: North Central, 713 E. Huntland Dr., Austin, TX 78752 Map
Phone: (512) 419-1400
Price: $10-$20
Hours: Mon-Sun 10am – 10pm
Food (6/10)
(6/10) Dol Sot Bi Bim Bob
Shredded beef, seasoned vegetables, rice and a fried egg served in heated stoneware. Served with chili bean paste on the side. The beef was cooked well and not fatty at all. The downside is that it lacked a distinct flavor and needed a lot of chili paste to spruce it up. The vegetables had a bit more flavor than the meat and that helped bring the score up. Overall, this is an average dish.
(5/10) Gal Bi
Marinated short ribs with sesame seeds and green onions on top. The gal bi is pretty flavorful and plentiful, but unfortunately quite fatty. Usually gal bi is our favorite Korean dish, but it did not even come off the bone easily due to the chewy/fatty texture. In this bento box, you get more than just gal bi. You can choose between white and fried rice. It also comes with some fried tempura vegetables, a small salad, two fried dumplings, and 2 small pieces of California Roll. The waitress also served us a complimentary miso soup before bringing out our meal. All this for ten dollars – what a deal!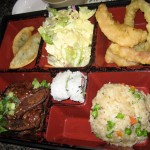 (6/10) Bulgogi
Marinated beef with sesame seeds and green onions on top. The bulgogi here is boneless and very tasty. Again, the beef is somewhat fattier than we're used to, but perhaps it contributed to the flavor. It comes with the same food as the gal bi that is reviewed above, all packed neatly in mini compartments! Traditionally, this dish comes with several small sides, such as kimchi, pickled zucchini, and sweet potato. We've been to Korean restaurants that offer closer to ten little side items, and Cho Sun Gal Bi brought out about five for the bulgogi lunch special.
(5/10) California Roll
Tasted like your run of the mill California roll with imitation crab and topped with sesame seeds. No complaints, but nothing special here. On the plus side, the ingredients did taste fresh.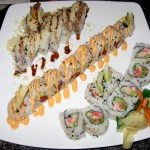 (6/10) Spicy Tuna Roll
The spicy tuna roll is pretty good. Spicy mayo is drizzled on top and it adds a nice kick to it. The tuna is fresh, not a hint of that "ocean" or salty flavor.
(7/10) Tempura Roll
Yummy roll with avocado and eel sauce on top. The tempura flakes definitely enhanced this roll and it earned an extra point!
Service (9/10)
We went during lunch and it was pretty empty. There were a few diners here and we noticed they were all Asian – usually a sign of an authentic and good restaurant right?! The hostess seated us immediately. Cho Sun Gal Bi has booth style seating with a high tech looking BBQ area in the middle of the table. Our waiter was attentive without being overbearing. He didn't speak English too well, but that didn't stop him from anticipating our needs. He quietly refilled our waters and replaced and removed our dishes. At the end of our meal, he brought out to go boxes and a bag. The friendly hostess said bye to our group when we left. Really wonderful service.
Ambiance (6/10)
This is not the easiest place to find – primarily because we couldn't find their name on any restaurant signs or on the actual building!  It is in a strip mall across from Highland Mall. Cho Sun Gal Bi uses the former Outback Steakhouse building, but the interior is freshly decorated. There is minimal décor, with just a few pictures here and there. This restaurant is clean and casual, good for families or date nights. Be warned though – the seats are not comfy because the table is too far away. So you have to sit forward in your seat whenever you want a bite of food! This is not the best or most affordable Korean BBQ you will have, but could be worth a try if you are in the area and craving some marinated meats or simple sushi.