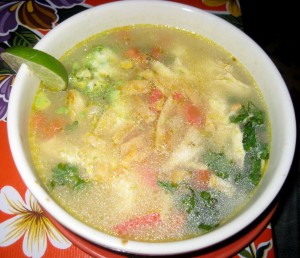 Restaurant: Hula Hut
Location: Central, 3825 Lake Austin Blvd., Austin, TX 78703 Map
Phone: 512-476-4852
Price: $8-$14
Hours: Mon-Thur 6:30am – 9:30pm, Fri-Sat 6:30am – 10:30pm, Sun 7am – 9:30pm
Food (7/10)
(6/10) Homemade Chicken Tortilla Soup
With avocado, monterey jack cheese, cilantro, poblanos, corn & tortilla strips. It was a cold night, so we opted to begin our meal with a hot bowl of soup. We were shocked when we saw the portion – it looked like one gallon! The soup consists of a clear and thin broth, so be aware of that when ordering. There was a sufficient amount of soft, white meat chicken but only a couple of avocado pieces. There were adequate amounts of other ingredients. Flavor-wise, it was bland except for a small hint of spiciness. This soup is good for those who want to eat on the lighter side, but we were unfulfilled.
(9/10) Chicken & Guacamole Tubular Taco
Roasted breast of chicken, guacamole, monterey jack & herbed cheese baked in a homemade flour tortilla with sour cream tomatillo sauce. Served with rice and refried beans.  These are an Austin staple and the tubular tacos definitely live up to their name. Also – this dish could easily feed two! The chicken is tender and juicy. Red sauce had been drizzled on top. This entrée resembled a soft taco mixed with a burrito. The sour cream tomatillo sauce sitting underneath the taco packed just the right amount of heat. The flavorful cheese would have stolen the show had it not been for the amazing homemade tortilla. The rice was soft and cooked well. The beans were average. Order this and enjoy the symphony of flavors in your mouth.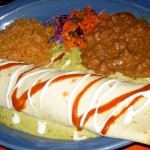 (7/10) Grilled Veggie Tubular Taco
Lightly grilled zucchini, carrots, mushrooms & red bell peppers with fresh spinach, monterey jack and herbed cheese baked in a homemade flour tortilla with tomatillo sauce. With rice and refried beans on the side. A solid dish but was missing a little oomph. Perhaps because it was over-cheesed, it could have used some avocado or more veggies to balance it out. The vegetables did taste fresh, and the tortilla was delicious.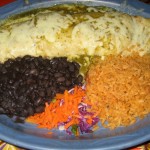 (7/10) Macadamia-Crusted Mahi Mahi
Fresh mahi mahi crusted with macadamia nuts and panko, sitting on a bed of grilled spinach, garnished with mango pineapple salsa and served with chopped salad. Another solid entrée, but again lacking a particular flavor. The bites with the mango salsa were better – but it was still pretty subtle.  It was texturally pleasant – crispy on the outside and soft on the inside. For the price, the quantity was generous.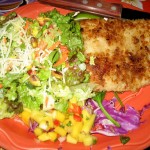 (9/10) Tres Leches
Traditional Mexican cake made with three sweet creams and served with strawberries. Hula Hut has really outdone themselves with this one – it is to die for! Perfectly moist, yet fluffy. The flavor was mild and tantalizingly sweet. We almost gave this amazing dessert a "10" but the large wafer like cookie accompanying the cake was unexpectedly bitter and spicy! Regardless – the tres leches is reason enough to come back!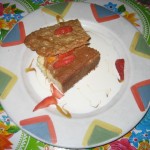 Service (5/10)
We had reservations, and the aloof hostess pointed us in the direction where our other friends may have been seated. Since it was an unusually quiet, empty weekend night, the disinterest in customers was below par. Keep in mind that Hula Hut is a popular hangout for UT students, so that the wait time on weekends can be over an hour. The complimentary chips and salsa are always appreciated. The salsa had a nice zing to it. Our waitress did not greet us, and proceeded to quickly take everyone's orders. We had a question about a menu item and got an incomplete answer. Our dinners did come out on a timely manner, but we were not checked up on even once, and drinks were not refilled. At the end of our meal, one bill came out for our group of ten. We asked for it to be split four ways, but our visibly annoyed waitress said we should have mentioned it before we ordered the food. Perhaps this was true but she also could have asked us, instead of taking our food orders in a rushed manner. Again, this was puzzling since the restaurant was almost empty that night. Either way, the service left a lot to be desired.
Ambiance (8/10)
Hula Hut sits on a pier on Lake Austin, so when the weather is nice it is a great place to watch the sunset. A small amount of parking is available outside the restaurant. There is also parking across the street (up a small hill), and there are courtesy golf-cart shuttles are able to take you to the restaurant or back to your car. There is some seating at the grass-thatched bar, plenty of indoor seating and two different areas of outdoor seating. This restaurant has bamboo walls with mounted fish, palm trees (similar to the inside of Chuy's), pretty lights and tiki torches. The music in the background is usually surf rock or traditional Hawaiian. The cuisine is a blend of Mexican and Polynesian flavors. The food is fun and inexpensive, especially for the amount they serve. Next time you think about taking out-of-towners to Oasis, give this Tex-Mex luau a try instead!