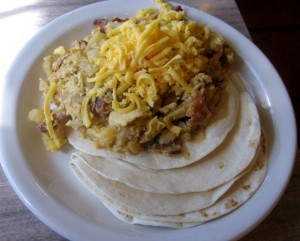 Restaurant: Juan in a Million
Location: East Austin, 2300 Cesar Chavez Street, Austin, TX 78702 Map
Phone: (512) 472-3872
Price: $3-$8
Hours: Open everyday 7am – 3pm

Food (7/10)
(7/10) "Don Juan" El Taco Grande
A hodge-podge of potato, egg, bacon and cheese in a flour tortilla.  This is what makes Juan in a Million famous. You get a heaping mound of food for less than $4. It only comes with 1 tortilla so be sure to order some extra. Also, try adding some lemon juice or salsa for extra flavor. Our only complaint is that some of the bacon pieces were hard and burnt.
(7/10) Migas
This dish includes two eggs scrambled with tortilla chips, onions and tomatoes, refried beans, potatoes, two flour tortillas and shredded cheese ($1 extra). This dish tastes similar to the Don Juan but cheesier and comes with refried beans. This tastes great wrapped in a flour tortilla and topped with salsa.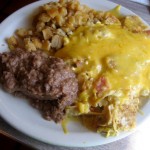 Service (5/10)
Although it was crowded, the service could have been a little better.  The waitress was not very attentive and we had to flag her down to get the bill.  We asked for no ice in the water but received it filled with ice.
Ambiance (6/10)
The restaurant has portions of the wall unpainted, cracked windows, crooked wall hangings, yet the lines wrap around the restaurant on weekend mornings. People of all ages flock here for the unique atmosphere and the good food.  Parking can be tough, so you will most likely have to find street parking. This place is for those party animals who are hungover after a night of painting the town red as well as for couples who want a brunch experience to remember.