Restaurant: La Cocina de Consuelo
Location: North Central, 4516 Burnet Rd, Austin, TX 78756 Map
Phone: (512) 524-4740
Price: $8-$10
Hours: Mon-Fri 7am – 3pm, Tues–Fri  6pm – 9pm, Sun 8am – 2pm
Food (5/10)
(7/10) Chicken Enchiladas with Green Tomatillo Sauce
These enchiladas are small but bursting with flavor. The outside wrapping is soft and the inside has juicy chicken inside. The tomatillo sauce has a hint of lime, which compliments the dish well.
(4/10) Beef Fajitas
The flour and corn tortillas were pretty disappointing as they were chewy and hard. The beef was tender and plentiful, but lacked any distinct flavor. At Consuelo's, it seems as if they don't marinate their meats. Good thing there were some onions, bell peppers, pico and cheese to help dress the fajita up.
(5/10) Chicken Fajitas
Again, the tortillas left something to be desired. The chicken was cooked well, and had just a touch more flavor than the beef. We were hoping for that grilled, smoky charbroiled flavor but did not find it here. We are still on the hunt for a great fajita place in Austin so send us some suggestions as where to go next!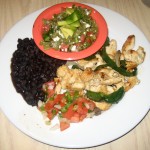 (6/10) Pollo a la Monterrey
Grilled chicken breast topped with salsa verde and Monterey cheese, served with tortillas on the side. Finally a dish seasoned deliciously and had a little kick to it. Unfortunately the lower score is due to the tough, dry chicken underneath the delicious sauce.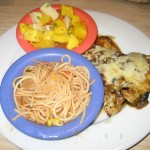 (6/10) Sides
–complimentary chips & salsa –  thin crunchy chips with a spicy salsa – yummy
–guacamole – a tad pricey but worth it
–fideo – bland vermicelli noodles…definitely skip this one
–black beans – average but good
–nopalito (cactus) salad – bits and pieces of tomato, feta cheese and cactus…try it!
–mango & jicama salad – mango and jicama tasted ok, but it was garnished with too  much cilantro
(8/10) Service
Consuelo's niece was our hostess/waitress. She was very warm and friendly, and made several recommendations to our group. Our food came out promptly and beverages were refilled multiple times without us asking. This personalized care and attention was much appreciated.
(6/10) Ambiance
Parking is limited because La Cocina de Consuelo is very small – seating about 12 inside and 12 outside. The brightly colored walls, minimal décor, and mismatched chairs contribute to the homey, authentic feel of this place. The food here is moderately priced. When you need a break from the Tex-Mex chains and you happen to be in the Rosedale area, perhaps visit this little restaurant.