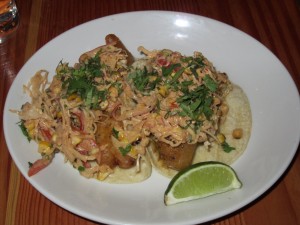 Restaurant: La Condesa
Location: Downtown, 400 West 2nd Street, Austin, TX 78701 Map
Phone: (512) 499-0300
Price: $22 – $32
Hours: Mon-Wed 11:30am – 2:30pm, 5pm – 10pm, Thu-Fri 11:30am – 2:30pm, 5pm – 11pm, Sat 11am – 3pm, 5pm – 11pm, Sun 11am – 3pm, 5pm – 10pm
Food (7/10)
(8/10) Tecateno
Tecate-fried market fish, charred corn-chipotle slaw, tomatillo, salsa arbol. The fish of the day was halibut and it was quite addictive! The charred corn-chipotle slaw and salsa arbol enhanced the flavors of the tecate-fried fish. The flavors played very well off-each other. This dish whet our appetite and we were eager to try more items on the menu.
(6/10) El Califa
Seared ribeye, crispy manchego, cilantro, oak-grilled jalapeño-tomato salsa. The beef was cooked ok, but there wasn't much of it. There was a lot of crispy manchego though, and it tasted pretty average. The cilantro got lost because the cheese was super fried, but the salsa flavor comes though nicely.
(6/10) Queso Flameado
Pure luck farms goat cheese, queso mixto, habanero pickle, serrano salsa, chicharrón. Queso mixto has several different cheeses, black beans, and avocado salsa in it. Combine this with a fried pork rind, goat cheese and add some habanero and you get a pretty involved queso! Unfortunately, quantity doesn't mean quality. We were surprised to find the cheese was hard and a bit rubbery, but it did have a nice flavor. The pork rind was more chewy than crunchy. The tortillas on the side were a thoughtful touch.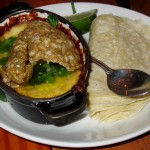 (6/10) Chile Relleno
Quinoa-stuffed poblano pepper, butternut squash, chives, manchego cheese, tomato broth, salsa pepita, tortillas. Sounds delicious huh? We thought it would be too. The relleno had a great texture, but overpowered the quinoa and other fillings. The relleno sat on top of some rice and was in a bland tomato broth. The tortillas that accompanied this dish seemed unnecessary. It was definitely a generous portion, and a creative option for a vegetarian or really anyone who likes stuffed peppers. The execution could have been better though, as it wasn't really tasty. Our next dish was more flavorful though!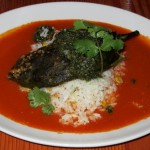 (7/10) Pato Con Mole Negro
Crescent duck breast & confit leg, three-day mole, toasted sesame seeds, rice, crema, tortillas. This was a tender and juicy duck breast with a beautifully rich mole. The toasted sesame seeds added a nice crunch to this well balanced entree. We would have preferred a little more duck. The tortillas complement this dish well because it absorbs some of the excess mole.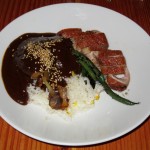 (8/10) Elotes
Mexican-style street corn on the cob. This corn is delicious! It seemed to have crumbled cotija cheese, mayonnaise, butter and a pinch of chili powder on it. Who knew these ingredients would taste so good on corn! It is a heavy side – but your taste-buds will thank you afterwards.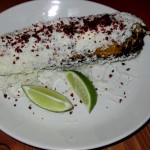 (7/10) Tarta De Chocolate Salada
El rey dark chocolate tart, dulce de leche, maldon sea salt, honey-popped amaranth, rosemary-brown butter ice cream. Yummy caramel covered and ganache tart with coarse salt, and one of the most delicious dessert ice creams we've tried. The chocolate tart was extremely soft and almost lacked structure, but the flavor was chocolaty goodness. Although salt can enhance dark chocolate, there was too much coarse salt (and they were large) on this tart. The crunchy amaranth was more subtle and went well with the el rey dark chocolate. Next time we'll try the Spicy Boca Negra (flourless chocolate cake) and see which one we prefer.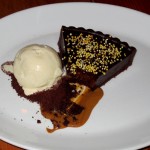 (8/10) Torta De Queso De Cabra
Pure luck farms chèvre cheesecake, rum-piloncillo pineapple, saffron custard, graham cracker streusel. These cake made from goat cheese is a unique twist on the traditional cheese cake. We actually wished it contained a little more goat cheese flavor. The dehydrated, candied-rum pineapple on top of the cake adds a nice sweetness, and the crust is nice too. The saffron custard is not only innovative, but offers another dimension to this dessert. When eating it, try to get a bite of cheesecake with the pineapple and custard. This is a rare case where we enjoyed a non-chocolaty dessert more!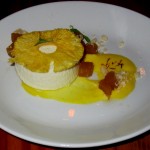 (7/10) Service
We made reservations for a weekend evening. Keep in mind that they do not seat until the last person in your group has arrived. We were seated and a friendly waitress came and got our drink orders. By the way, the caiprinhas at La Condesa were strong and yummy! Most of our food came out on a timely matter, and our waitress checked up on us at appropriate intervals. One of our appetizers wasn't delivered, but this was remedied once we informed the waitress. We were celebrating a birthday that night, and it was sweet of them to bring out a dessert of our choice with a candle in it. The bill took a while to come out, but it was a very busy Saturday night. Overall, we were happy with the service.
(8/10) Ambiance
La Condesa is located downtown, so there is valet, nearby parking garages, and if you're lucky you might find street parking. The inside is very inviting with a trendy Latin American influenced ambiance. There are beautiful plant arrangements, concrete floors, murals on walls, and soft lighting. There is a small bar and lounge area on the second level, and a tiny balcony as well. The main dining room is a mix of plush booths, lighter wooden tables with unique chairs. Speaking of chairs – there seemed to be plastic chairs on the balcony, which appeared to be out of place at this upscale, modern eatery. La Condesa can be good for couples but even better for groups. After dining, check out the underground vault! Or if you're ready to party, go upstairs to Malverede – an equally gorgeous lounge. La Condesa takes Mexican street food and serves it with a fun, contemporary flair. The prices are comparable to other swanky downtown restaurants, but the food and ambiance is tops!