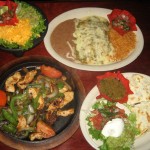 Restaurant: Texican Cafe
Location: Cedar Park, 11066 Pecan Park Blvd Cedar Park, TX 787613 Map
Phone: 512-506-9900
Price: $8-$15
Hours: Mon-Thur 11am – 10pm, Fri-Sat 11am – 11pm, Sun 11am – 10pm

Food (6/10)
(7/10) Quesadillas Compuestas (Beef)
Texican Cafe offers this dish on their appetizer menu, but the portion size could also be a meal in itself. The quesadilla is stuffed with tender, flavorful beef and melted white cheese. There is plenty of pico de gallo, guacamole, sour cream, and green tomatillo sauce on the side to make these quesadillas mouth-wateringly delicious.  Give it a try, you won't be disappointed!
(6/10) Chicken Fajitas (1/2 lb)
These fajitas come out sizzing with onions, tomatos, and an abundance of bell peppers.  Usually at Mexican restaurants, the aroma of fajitas from neighboring tables would make you salivate as you toyed with the idea of snatching it from their plates.  However, Texican Cafe's fajitas are not so aromatic. The meat tastes more like grilled chicken rather than fajita chicken, therefore adding pico and salsa is a must.  Overall the dish is satisfying, but if you are craving fajitas, look elsewhere.
(6/10) Green Chile Enchiladas
The green chile enchiladas are listed as the "New Favorite!" on the Texican Cafe menu, so we decided to give it a try. This dish comes with two shredded chicken enchiladas, topped with green chile sauce. We enjoy spicy food, but WOW, these will burn a hole in your mouth! This dish is good, but the amount of spicyness prevents you from enjoying it completely.
Service (6/10)
We ate at Texican Cafe on a late Friday evening and were seated promptly.  Our waitress forgot to bring out extra sauce we had asked for, and she was not very knowledgable about the menu. She did check on us from time to time but could have been more attentive since the restaurant was not crowded.
Ambiance (7/10)
Texican cafe is a pretty large restaurant with indoor and outdoor seating. The areas are clean and there is plenty of parking. If you are looking for some place less noisy and more family-friendly than Chuy's, then this is a good choice. The decor is nice and lighting is on the dim side, which makes it suitable for a date night too!