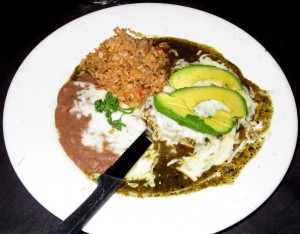 Restaurant: Vivo
Location: Northwest, 12233 RR620 Austin, TX 78750 Map
Phone: (512) 331-4660
Price: $12-$16
Hours: Mon – Thu 4pm-10pm, Fri 4pm – 11pm, Sat 12pm-11pm, Sun 4pm-10pm
Food (6/10)
(7/10) Pollo Vivo
Grilled chicken breast covered with our tasty tomatillo sauce, Monterey Jack cheese, and avocado slices. Served with a small salad, whole grain brown rice and beans. The chicken was cooked well and was juicy and tender. The combination of cheese, chicken, and tomatillo sauce was excellent and had an addictive flavor. The creamy avocado was a welcome addition. We would get this dish again, but won't fool ourselves into thinking it is healthy next time around!
(7/10) Steak Jalisco
Skirt steak grilled to perfection and topped with grilled onions. Served with whole grain brown rice, beans, and cilantro garlic sauce. This steak was sliced very thin, which was nice. It was not too flavorful by itself, but the grilled onions and sauce spruced it up. A couple bites were chewy and overcooked. They did give a generous portion.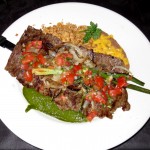 (5/10) Chocolate Cannoli
Two fried pastry cones filled with cheese, sitting in a bed of rich Ghiradelli chocolate. The cream cheese flavor kind of clashed with the other elements of this dish. The crispy exterior was warm and had a great texture, and when dipped into the chocolate it was delicious! This dessert was a little one-dimensional and could have used a little more creativity. Still, if you put rich, creamy chocolate right in front of us, chances are it won't sit there for too long!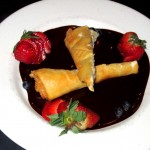 (7/10) Service
We dined at Vivo on a weekday evening. We had reservations so we were immediately seated upon arriving. Even though the restaurant was not too busy, it took quite some time for our waitress to come by and bring our waters. Our waitress was friendly and knowledgeable about the menu, but not very efficient. Unfortunately, the slow service continued throughout the night. When it was time to pay the bill, we couldn't find the waitress so we had to go over to the bar and give it to another staff member. This didn't detract too much from the overall experience, but this is one area that could use improvement.
(7/10) Ambiance
Vivo is located in a busy strip mall in Northwest Austin. There is an outdoor patio with casual chairs and an impressive waterfall with Asian-statues near it. The ambiance inside is hip and makes you feel as if you're in a trendy spot, which is really nice for a North Austin restaurant. There is a large dining area where semi-private booths line the walls and there are many tables down the middle of the room. Shear black curtains separate the bar area. It's important to note that there are pictures of naked women on several walls. Some are vibrant and colorful, and some are faded and more subtle, but there is no shortage of them. Vivo is more of an adult-themed restaurant, not really a place for families with young children. Wednesday night is Ladies Night, and in the back room you can buy a purse, get your nails done, or purchase some naughty toys! There is 90s music playing in the background, and on some evenings there is a live DJ. This is a great place for a romantic dinner. At the end of your meal, they waitstaff gives a single, long-stemmed rose to female patrons. That is a really nice touch!