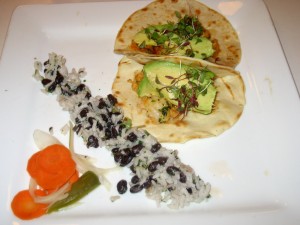 Restaurant: Zandunga Mexican Bistro
Location: East Austin, 1000 E 11th St. Austin, TX 78702 Map
Phone: (512) 473-4199
Price: $10 – $20
Hours: Tue-Fri 11am – 10pm, Sat 10am – 11pm, Sun 10am – 3pm
Food (8/10)
(6/10) Baja Lobster Tacos
Home-made flour tortillas, house escabeche, rice & black beans "al coco." This dish includes two lobster tacos that were moderately filled. The lobster was very tender and cooked nicely. The sauce was mild in flavor, but this allowed the natural tastes to come through. Be careful though, the sauce is watery and leaks out the back of the taco! The side of rice and beans were coconut flavored and served cold. The flavor was interesting, but pair well with the tacos. We thought the price was a bit steep for this dish given the portion size.
(9/10) Aguacate Relleno
Mexican chorizo, sweet pepper and mushroom filled avocado with arroz blanco & black beans. The creativity and flavor of this dish wowed us! The avocado was fresh and creamy, and the chorizo that was stuffed inside was very flavorful. Their spicy sauce gave this dish some heat and blended perfectly with the black bean paste. The avocado was topped off with chunks of queso fresco that gave this dish some extra oomph. Just looking at the photo makes us want to go get one right now!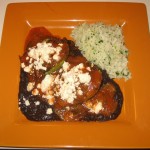 (9/10) Cajeta Crepes
Crepes with goat milk and caramel, hazelnut whipped cream, and frangelico. You haven't had heavenly crepes like this before! The dish came with three crepes smothered in a mixture of goat's milk and caramel. This made the crepe creamy and sweet, but without being too rich. It was then topped off with frangelico (hazelnut liqueur) whipped cream and fresh strawberries for some extra pizzazz. The crepes were garnished with sliced almonds. This was a beautifully plated and delicious dessert.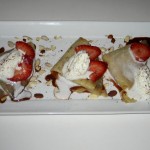 Service (9/10)
We dined at Zandunga for dinner on a weekday. We did not know what type of crowd to expect, therefore had made reservations. This was not necessary since there were plenty of tables available. When we arrived, the hostess greeted us and led us to our table. Almost immediately, our waitress came to introduce herself and drop off a complimentary basket of chips and salsa. Since it was our first time here, we asked her several questions regarding the menu and she was very helpful and personable. Our water glasses were refilled throughout the meal without us asking. The service was efficient and our only complaint is that at the end of the meal, we had to track her down to pay the bill. Overall, it was a fantastic experience!
Ambiance (7/10)
Zandunga is located in a newly constructed, mixed residential and commercial building in East Austin. The interior of the restaurant can be described as generic-modern. They could have been selling pizza out of this place and it would have felt the same. The inside consists of a large open room with table and half-booth seating options. There was also a moderately-sized bar area. Part of the ceiling was unfinished with pipes exposed, hence contributing to the modern look. The walls were colorful and large paintings of local art were on display. There was a tiny "lounge" area in the middle of the restaurant that had a couple leather couches. We noticed that they attached some pieces of foam to the bottom of the tables, probably to absorb sounds. This place could get loud when it is more bustling, perhaps during their happy hour. Outside, there are a handful of tables in the front of the establishment. One big plus is that you won't have to struggle to find street parking to eat here. There is plenty spots in the back lot and across the street. This place is good for both small and large groups. The food is a smidgen overpriced, but we'll be back because the food is fabulous and the staff is great.