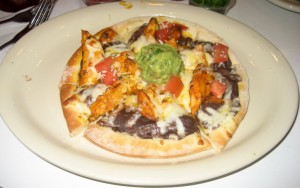 Restaurant: ZuZu Handmade Mexican Food
Location: Far West, 5770 N Mopac Expy Austin, TX 78731 Map
Phone: (512) 467-9295
Price: $6 – $9
Hours: Sun-Thu 8am – 9pm, Fri-Sat 8am – 10pm
Food (5/10)
(6/10) Chicken & Chipotle Mexican Pizza
A thick, crispy pizza crust, topped with black beans, melted mozzarella cheese, tomatoes, chicken and chipotle sauce.  When we looked at the menu, this atypical dish caught our eye so we had to get it. We love pizza and we love Mexican food, so we thought this would offer us the best of both worlds! However, the only thing "Mexican" about this pizza was the black beans instead of tomato sauce. The crust is like that of a regular pizza, there were only a few tiny bits of tomatoes, and the chipotle sauce was non-existent. The black beans gave it a dry feeling, so we had to add some salsa from the bar to make it more appealing.  On a positive note, the chicken chunks were large, plentiful, tender, and have a decent flavor. Overall, the pizza was ok but could have been better if it actually had chipotle sauce and more tomatoes.

(5/10) Fajitas
Chicken, steak or a mixed grill with red onions, poblano peppers, and red bell peppers. It's served on an iron skillet with two sides, mozzarella cheese, guacamole and choice of flour or corn tortillas. We ordered the mixed grill, but there was way more chicken than beef. While we were impressed the food came in a hot skillet, we were underwhelmed with the flavors. The chicken had a spongy texture, and the beef was slightly chewy. It would have been excusable if both meats weren't so bland! The flour and corn tortillas were ok. As sides, we got black beans and grilled veggies. The black beans were pureed – looked like a soup! The veggies tasted fresh and yummy, but were drenched in oil. Too bad we didn't enjoy the fajitas because it could have fed 1.5 people!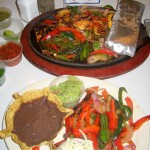 Service (6/10)
This is a fast-food type place where you order at the cashier station and they bring the food out to your table. The cashier was nice, and the waitress who brought out our food was very polite and asked us how we were doing before giving us our food. We did grab our waters, salsas and napkins though. Other than that there is not too much to say about service here.
Ambiance (7/10)
ZuZu is in a strip mall so there is plenty of parking available. It is family friendly, and good for couples or groups. We noticed they serve a handful of affordable desserts as well, but were too full to try one. There is music playing in the background, a small TV is mounted in the corner and the interior is brightly decorated. We were irritated with the upkeep because the tables and chairs had food all over them and had to clean them ourselves. Luckily, a similar eatery that we prefer also resides in the Far West area. For superior taste/quality, free chips and a bigger salsa bar try La Salsa.