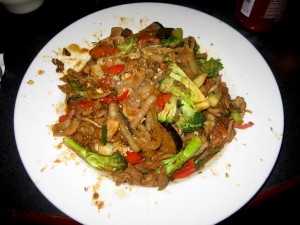 Restaurant: Mongolian Grille
Location: Northwest,12636 Research Blvd. #A-110, Austin, TX 78759 Map
Phone: (512) 335-8888
Price: $8-$10
Hours: Sun-Thurs 11am – 9:30m, Fri-Sat 11am – 10pm
Food (8/10)
We have to review this one differently because it is a make-it-yourself kind of place! Mongolian BBQ involves creating your healthy stir-grilled entrée by selecting from over 20 fresh vegetables (including tofu) and a variety of frozen meats (chicken, pork, beef, sausage, krab). Pick what you want and stack it up in your bowl. Then, season it according to your taste from a large selection of sauces. The final step in the preparation process is watching the cooks use machetes to grill your creation to perfection.  The one unfortunate behavior we noticed is that they do not clean the grill before putting your food on it – so vegetarians may need to request this if they don't want remnants of food that was grilled before their turn.
Click here to view the list of food items.
Tips:
1. Your creation will naturally decrease in size after being cooked, so pile food as high as possible beforehand!
2. It helps to use two bowls – one for veggies and one for meats.
3. You can choose to add an egg to your creation, and top it with peanuts when the they hand your cooked bowl of food back to you.
4. Beware of adding water-retaining vegetables such as eggplants and tomatoes – they will make your end result look mushy and water down the spices!
5. You will need more sauce than you think because it tends to dry out easily.
Service (9/10)
A group of us went to Mongolian Grille on Monday evening, and much to our surprise discovered we were the only patrons dining!  Our waiter was sweet and attentive – while we were getting our food made, he had set up our table with soup, dumplings, rice, and this yummy thin hollow flatbread. These are the "extras" that come with dinner. Our drinks were also waiting for us on the table, and they had brought out the hot sauce that I requested earlier. The waiters were not intrusive at all and checked up on us at appropriate intervals. When we got our check at the end, he came prepared with to-go boxes and fortune cookies for all of us. The service here is fantastic and something that other restaurants should try to emulate.
Ambiance (7/10)
Mongolian Grille is located inside a short strip mall, so parking is readily available. There are three locations: Round Rock, Northwest, and Downtown. The décor is simplistic and tidy. It isn't really the kind of restaurant that would impress a first date, but it is great for everyone else!  The food bar area on the other hand, is quite remarkable! There is such a diverse selection and it is well-maintained. For instance, there wasn't any item that they were running low or out of, and it had an overall clean look. Eating at Mongolian Grill is a fun experience, where foodies can unleash their creative side and making a unique one-of-a-kind dish!