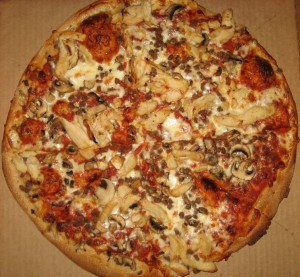 Restaurant: Austin's Pizza
Location: Northwest, 10900 Research Blvd. (183 @ Braker), 78759 Map
Phone: (512) 795-8888
Price: $8-$13
Hours: Mon-Sun 11am – 11pm
Food (6/10)
(6/10) Pizza
We ordered a pizza with mushroom, chicken and hamburger toppings, with vine-ripened tomato (marinara) sauce on a wheat crust. The pizza was luke-warm instead of piping hot, and the crust was pretty crumbly. The ingredients tasted fresh, but not flavorful. We could have just picked up a $5 DiGiorno's frozen pizza at the grocery store, the taste would be similar and it costs less! Perhaps next time we will try a different toppings, crust and sauce and will have better luck.
Service (8/10)
We phoned in our order and then picked it up at the North Austin location. They said it would take about 20 minutes and this was true. The cashier was friendly and efficient.
Ambiance (5/10)
Austin's Pizza is easy to find, and parking is not a problem. There is a small amount of seating inside, and it is clean, but this location is geared more towards take-out and pizza delivery. We were hoping there would be more of a presence inside – since we love supporting local restaurants, but the place didn't have much of a personality. For a seriously good pizza in the same price range, go to Promise Pizza and prepare to be wowed.