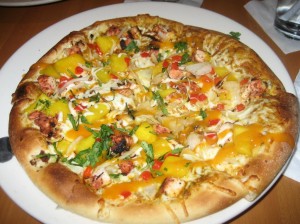 Restaurant: California Pizza Kitchen
Location: The Domain, 3401 Esperanza Crossing #E1, Austin, TX 78758Map
Phone: (512) 836-4400
Price: $9-$17
Hours: Mon – Thurs 11am-10pm, Fri-Sat 11am – 11pm, Sun 11:30am-9pm
Food (8/10)
(9/10) Mango Tandoori Chicken Pizza
Grilled Tandoori chicken, mango, mild onions, red peppers and Mozzarella cheese on a spicy golden curry sauce. Topped with fresh cilantro and a sweet mango-chili sauce. This is our favorite pizza at CPK – it's mouth-wateringly delicious and loaded with flavor. CPK uses fresh ingredients in their food, and you can taste the difference. Our only gripe is they skimp on the  chicken…like one piece of chicken per slice! But it doesn't stop us from ordering this every time.
(8/10) Goat Cheese with Roasted Peppers Pizza
Mild goat cheese with roasted red & yellow peppers, grilled Japanese eggplant, Mozzarella cheese, caramelized onions, Italian parsley and our tomato sauce. This pizza is also a winner due to its delicious flavor. The brick oven crust is slightly crunchy on the outside and warm and flaky on the inside. Carmelized onions = happy tummy!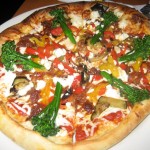 (7/10) Chicken Tequila Fettuccine
Spinach fettuccine with chicken, red, green & yellow peppers, red onions and fresh cilantro in a tequila-lime and jalapeño cream sauce. This dish was pretty good and had adequate chicken in it. The taste was mild and easy to eat. A solid chicken pasta that is on par with pasta dishes at a place such as Cafe Express.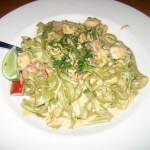 (8/10) Waldorf Chicken Salad
A rendition of a NYC salad that has field greens, chilled-grilled chicken breast, seedless grapes, Granny Smith apples, candied walnuts, celery and Gorgonzola cheese, topped with Dijon balsamic vinaigrette. We're not generally a fan of rabbit food, but made an exception for this one. It is consistently well made (we've had it in 4 cities so far!) and makes us think we are eating just a little healthier. The grapes were plump and the apple slices slightly tart, but they complimented each other well. The vinaigrette brought it all together!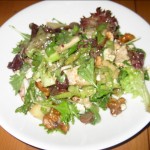 Service (7/10)
We dined at CPK on a Friday evening expecting to wait for a table, but surprisingly the restaurant was not busy at all. We were seated immediately and she took our drink orders. The waitress was friendly, efficient, and receptive to our requests. It took longer to receive our food than at other restaurants, but everything is made fresh here. At the end of our meal, the waitress boxed the leftovers for us. The service was solid and we had no complaints.
Ambiance (7/10)
Parking is available at the Domain location, whether it's in the garage or outside. CPK has tables, booths and a full bar, so it's good for couples or groups. It's a chain, which is why all of them look somewhat similar on the inside. Warm color schemes that give off a trendy vibe make this restaurant casually elegant. The prices are more than what you expect to pay for a pizza but these are unique gourmet style pizzas!