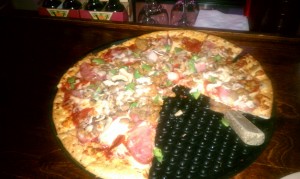 Restaurant: Rockin' Tomato
Location: 13729 N Research Blvd Austin, TX 78750
Phone: (512) 275-1777
Price: $5 – $10
Hours: Mon-Thur 11am – 10pm, Fri-Sat 11am – 11pm
Food (6/10)
(7/10) Carnivore Pizza
Comes with pepperoni, ham, beef, sausage, and bacon. The pizza had a very even and good crust. Ingredients were fresh and plentiful. I like my pizza hearty and this was a hearty pizza. Would describe this as New York Style, thinner and crisp crust, cooked just right. Crisp all the way to the center of the pie.
(6/10) Southwest Chicken Spicy Pasta
Chicken, bacon, red onion, jalapenos, cilantro, tomatoes, cheddar, and chipotle alfredo sauce. The SW Spicy Chicken Pasta dish was huge. In fact, it made several meals as leftovers. Angel hair pasta prepared al dente, kicked up sauce was just right with heat. About half of the all white chicken meat was unfortunately tough. Dish also served with garlic bread. A little on the well done side. Upon inquiring they prepare their own chicken on site but, then freeze it we learned.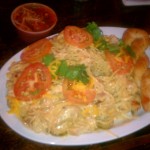 Service (7/10)
We were there at approximately 2:00 pm on a Sunday afternoon and there were just a few other diners and one engaging bartender/waitress. With only one bartender/server good thing there wasn't a crowd. The staff was knowledgeable about the menu and willingly offer suggestions when asked. Menu items are made to order. Service would be hard to rate on the time of day we were there. There was one couple in a booth and one other at the bar. The bartender did well.
Ambiance (6/10)
Located just a few doors down from Alamo Drafthouse (Lakeline) in strip center. Nothing special about the store. This is like many other of the local pizza establishments such as Conan's or Double Dave's. Background music was modern and the eclectic decor was that of a Rock -n- Roll theme. The other patrons were engaging. Video games were also present and table games were also available. The Bartender even played with you at the bar. Broad beer selection, inclusive of local brews were available. Not recommended for the wine connoisseur. They no longer offer a lunch buffet. I think their pizza is worth the wait of it being made to order. All in all a pretty decent place to have a casual lunch. You get a lot of food for the money. Family friendly. I would go back and try other menu items inclusive of their burger.
Reviewed by Linda, AustinFoodRatings.com