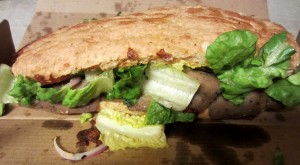 Restaurant: Rudino's Pizza & Grinders
Location: Northwest, 11521 North FM 620, Austin, TX 78726 Map
Phone: (512) 258-4900
Price: $7-$22
Hours: Open Mon-Fri 10am – 12am, Sat 10am – 1am, Sun 12pm – 10pm
Food (6/10)
(6/10) Italian – Rudino's Specialty Grinder
Ham, Sausage, Salami, Mushrooms, Onions, Green Peppers, Cheese, Lettuce, Tomato and Mayo. We ordered this sandwich on wheat bread, but you can also get it on white bread. It comes as a 9-inch or an 18-inch. We ordered it without Mayo in an effort to be healthy. This grinder had more meat in some parts of the sandwich and less in others. The salami was pretty flavorful, while the ham and sausage were a little bland. The tomatoes, cheese and lettuce tasted fresh. We didn't taste too much mushroom or onion either. Overall, it was a solid grinder. We expected more since it was the "specialty," but there are many grinders to choose from on the menu.
(6/10) Gyro Grinder
Sliced Gyro meat, Tzatziki Cucumber Sauce, Onions, Romaine, Tomato, Cheese, and topped with Greek Dressing. We heard the grinders are the dish to get here, so we ordered the gyro grinder instead of getting a pizza. The bread was great – warm and toasted the right amount. This grinder was messily made and didn't taste too "Greek," but the dressing definitely helped in that department. The gyro meat was lacking in quantity and flavor. This sandwich did leave us feeling nice and full though!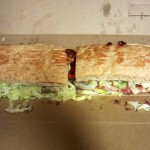 (7/10) Service
We got there on a Sunday night, and it was pretty empty. The cashier was pleasant and waited patiently as we perused the menu.  We placed our order with the her and asked for our order to-go. It took about 20 minutes for our grinders to come out. We thought it would be nice if someone could come out and let us know about how much longer it would be. After receiving our food, we thanked our cashier and left to go home.
(6/10) Ambiance
Rudino's is located in strip mall in Northwest Austin. It is a bar on one side and a casual restaurant on the other side. The bar side has several televisions, a cute juke box, a pinball machine, and some other arcade games. The restaurant side of Rudino's looked like a family-friendly place. There were many college flags and framed pictures near the entrance. They often have live music on Friday nights. We imagine it to be busier on Friday and Saturday nights, or when there is a big game on.