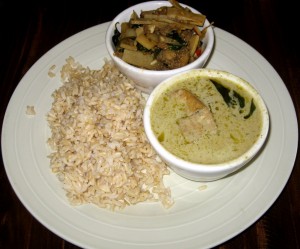 Restaurant: Thai Fresh
Location: South Austin, 909 West Mary St. Austin, TX 78704 Map
Phone: (512) 494-6436
Price: $8-$14
Hours: 11am – 9pm, 7 days a week
Food (4/10)
(4/10) Pad Ka Prao
Ground beef that is stir-fried in garlic and chili paste with Thai basil. The portion for this dish was pretty small for the price per pound. Also, we don't know if reheating the food in a microwave was partially to blame for the one dimensional taste. There was very little beef in the bowl, as it was mostly bamboo shoots and spinach. When we did find beef, it was pleasant tasting. Hopefully, we fare better with the next entrée.
(4/10) Green Curry with Eggplant & Zucchini
A curry that uses green chilies to make curry paste. We thought we would try a vegetarian friendly option. The curry does pack a great kick. The eggplant was tough and the zucchini was very soggy. Again, the portion was very small. We did get a side of rice and tried to eat some of the curry with the rice. The brown rice was completely dry, probably as a result of being microwaved.
(5/10) Chicken Pad Thai
Stir-fried rice noodles with eggs, fish sauce , tamarind juice, red chili pepper and chicken. The noodles were pale and did not seem seasoned enough. However, they were cooked well and were a nice texture. We have to take away some points because we were astonished by the lack of chicken in this dish. We counted and found only one piece. Read on to find the one entrée that finally made this trip worth it.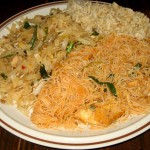 (6/10) Coconut Noodles
These noodles were slightly spicy and sweet at the same time. They were pretty addictive. It was saucy, but in a good way. We were happy to find that for some reason we had more of these noodles than the pad thai. We were disappointed that this plate had not been warmed up enough and the food was luke-warm, but perhaps it was for the best because the noodles and rice were not as dry.
Service (4/10)
We came around noon on a weekday. We told the girl behind the counter that we were excited to be there and that it was our first time. It was met with a head nod. We asked her to explain the ordering process to us and she gave us a concise answer. We noticed that certain dishes cost more to eat in, and some cost more to take out. Also, they charge you for the containers if you are taking out, but you get a partial refund if you bring the container back to them. We asked if we could sample two of the items and we got the tiniest "sample" which was freezing cold. For instance – for the pad ka prao, we got one bamboo shoot. After paying the cashier, we got our own beverage, napkin & silverware. We thought they might let us know when our order was ready, but you just have to keep looking and checking the counter because nobody's orders were being called out. All in all, we thought the service would be better and more friendly since it had a cute South Austin vibe going for it.
Ambiance (5/10)
Thai Fresh is located in a small strip mall. The inside is deceptively large. There are cafeteria style wooden benches to sit on inside. They also sell some groceries and other items (scented soaps) and offer cooking classes. When you walk in, you are greeted by a refrigerator with a display window that has about 10 Thai dishes inside. You then pick your items to make up your 1, 2 or 3 item combo plate. This place would be good for couples or groups, and is pretty casual. As you can tell from this review, my co-worker and I were turned off by the unhelpful attitude of the staff, the small portion sizes and extra fees. Also, the food didn't seem that fresh because the microwave seemed to zap the flavor out and dry everything up!