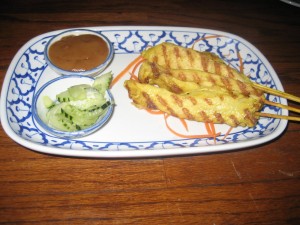 Restaurant: Thamnak Thai
Location: Cedar Park, 200 Buttercup Creek Blvd., Cedar Park, TX 78613 Map
Phone: (512) 331-3810
Price: $6-$12
Hours: Mon-Sat 11am – 3pm, Mon-Thu 5pm – 9:30pm, Fri-Sat 5pm-10pm, Sun 4pm-9pm
Food (6/10)
(4/10)  Satay (Appetizer)
Grilled marinated chicken served with peanut sauce and cucumber salad. We ordered this because it seemed like a solid appetizer to hold us over until our entrees came out.  However, we were disappointed by the four skewers of completely flavorless chicken that had an odd texture – tasted like cardboard! Dipping it in the peanut sauce did not help much. The sad part is that the bits of cucumber is the best part.
(6/10) Panang Curry
Your choice of meat (we chose chicken & tofu) with green beans, bell peppers, kaffir-lime leaves in panang curry and coconut milk.  The curry is quite chunky with an abundance of green beans, but the chicken was non-existent.  However, there are lots of large and delicious tofu pieces.  The curry itself is lacking spice that would have made it panang-a-licious.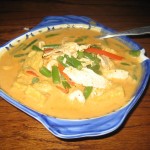 (7/10) Pad Thai
Stir-fried noodle with egg, bean sprouts, green onions, and your choice of meat (we chose chicken).  Although not mentioned in the menu, it came with peanuts.  This is a Thai staple that we have tried at many other restaurants and provides a good basis for comparison.  The pad thai here is more saucy and flavorful than average which made it enjoyable to eat without adding any chili. The chicken was average – nothing to complain about. If you are looking for a simple yet addictive dish, go ahead and give this a try!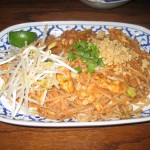 (5/10) Pad Kra Prao
Your choice of meat (we chose beef) with bell peppers, onions, mushrooms, and basil served with rice. Unlike some of the other dishes, this one has plenty of flavor. If you are a carnivore, you will like that the beef out-numbers the veggies.  However, the beef is very dry and chewy which completely ruined the dish. You might have better luck ordering it with chicken or tofu.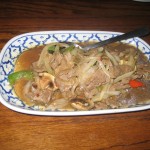 (7/10) Pad Kee Mao
Stir-fried flat rice noodles with bell peppers, onions, broccoli, and basil. This is a solid noodle dish that packs a punch. The chicken was soft and tender which was a huge relief after trying the Pad Kra Prao. The flat-noodles are a little below average and were thicker than usual (it reminded us of lasagna).  The menu said there is broccoli, but it must have been very baby broccoli because we did not see any. Overall, this dish is satisfying and we recommend it!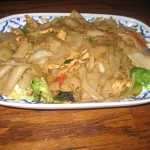 Service (6/10)
Like many other Asian restaurants, the service here is not overly-friendly, but is efficient.  We were seated in a timely manner and the waiter took our drink and food orders at appropriate times. Our food came out rather quickly which was pleasantly surprising.   The waiter came once to refill our drinks, but otherwise left us alone.  Simple service with a smile – no complaints.
Ambiance (6/10)
Thanmak Thai is a casual restaurant located in a Cedar Park strip-mall just minutes away from Lakeline Mall. This mid-sized eatery has plenty of table and booth seating available. The decor is simple, but dividers between booths offer patrons a good amount of privacy. Their $6 specials make this an appealing place for the weekday lunch crowd. If you are looking for a no-frills place to eat for the family,  try Thanmak Thai!