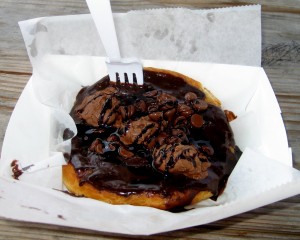 Restaurant: Gourdough's
Location: South Austin, 1219 South Lamar Blvd, Austin, TX 78704 Map
Phone: N/A
Price: $3.25 – $5.25
Hours: Mon-Tue 11am – 12am, Wed-Thu 11am – 1am, Fri 11am – 3am, Sat 10am – 3am, Sun 10am – 12am
Food (9/10)
(8/10) Black Out
Donut topped with brownie batter, fudge icing, and chocolate covered brownie bites.  Have you ever baked cookies and been guilty of eating the uncooked batter? Or how about dipping your finger in a container of chocolate icing? If you answered yes to these questions (like us!), then you need to try this. Basically, this donut is just the transport mechanism for the sweet, decadent, creamy chocolate. Well fellow foodies, this may be the first and last time we'd ever admit this but…it was almost too chocolaty and slightly one-dimensional. It was by all means a spectacular dessert, but we wish there was a little more donut underneath it to help soak up some of chocolate yumminess. Still, we happily ate every last bite.
(10/10) Miss Shortcake
Donut topped with cream cheese icing and fresh cut strawberries. We really satisfied our sweet tooth while eating this one. It is unparalleled in flavor (and probably in calories too)! It tasted like a frosted funnel cake, and the fresh strawberries on top added some natural sweetness and juiciness to an already mouth-wateringly delectable donut. The glaze on top is fabulous. We ordered a scoop of vanilla ice-cream and it went perfectly with this donut and also the Black Out. Gourdough's did an outstanding job of taking a simple concept and perfecting it. We absolutely loved this dessert. Be sure to take your out-of-town guests here to wow them!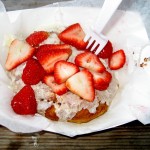 Service (8/10)
We pulled up to the trailer and walked to the very friendly guy in the window. He was down to earth and chatted with us while taking our order. Gourdough's fries up these donuts after you order so that they are hot and fresh. We waited 15 minutes for our order even though there was no one before us in line, so be prepared to wait at least this long. But don't worry, it is well worth it. Luckily – the crowd came right after us! He gave us our donuts and ice-cream, napkins, plasticware and water. We dug in immediately and savored every sweet morsel.
Ambiance (7/10)
Gourdough's operates as a food stand in South Austin. The area around the trailer is very gravelly, which has pros and cons. The upside is that you don't have to worry about ants and other inspects crawling on your feet. The downside is that the ground is rocky and you have to be careful not to step on a sharp stone. Also, it is not very wheelchair accessible. Gourdough's trailer is cutely decorated, with small plants placed outside. There are several benches with umbrellas, although some umbrellas did not provide adequate shade because they were crooked and falling over. Music was playing from their speakers and added to the laid back Austin vibe. Who wouldn't want to devour an extremely rich doughnut with creative and delicious toppings? We're already planning what to get on our next visit!