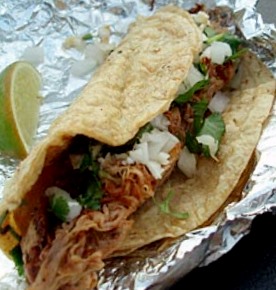 Restaurant: Torchy's Tacos
Location: South Austin, 2809 South 1st Street, Austin, TX  78704 Map
Phone: (512) 444-0300
Price: $2 – $8
Hours: Mon–Thur 7am – 10pm, Fri 7am – 11pm, Sat 8am – 11pm, Sun 8am – 10pm
Food (8/10)
(9/10) Breakfast Tacos
On a flour or corn tortilla, pick 3 sides out of bacon, egg, potato, green chili, chorizo, cheese, beans, or jalapeno sausage.  One of my favorite combinations is potato, egg and cheese with the tomatillo sauce on a soft, warm flour tortilla. We tend to inhale this delicious taco down fast – that's how good it is! Most of the ingredients taste fresh, but the chorizo failed to impress us on a few occasions.  It's fun to mix and match…we wish there was a location in North Austin!
(8/10) Different Sauces
Diablo: Fire roasted habanero chilies blended with vinegar, spices, and tomato
Tomatillo: A blend of 3 fire roasted chilies, tomatillos, grilled onions, cilantro and lime
Roja: Fire roasted roma tomatoes, chilies, grilled onions, garlic cilantro and lime
Poblano: Creamy ranch blended with serranos and grilled poblano peppers
Chipotle: Creamy mixture of smoked chipotle peppers, adobo, and roasted tomatoes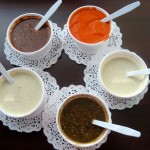 Service (8/10)
There is not much we can write in this area since we're getting food served from a trailer. Although they can be a little distracted due to the crowd, the staff is still friendly and helpful. There does always seems to be a line, but it moves quickly.
Ambiance (6/10)
Again not much to elaborate on in this section, but there is a Torchy's a block down that has a small sitting area inside for those who cannot stand this Austin heat! There's very little parking space and it is usually packed and busy, so you might have better luck across the street or on a side street.  We were amused by the clever names given to some of the tacos, but we won't spoil it in case you haven't been there yet. Torchy's tacos are a tad pricey but definitely worth it. Next time we will try their queso and fried avocado taco – they look pretty darn good too!