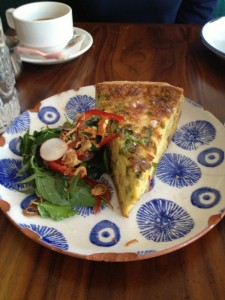 Restaurant: Elizabeth Street Cafe
Location: South Austin, 1501 South 1st Street Austin, TX 78704
Phone: (512) 291-2881
Price: $8 – $20
Hours: 8am – Late, 7 days a week
Food (8/10)
Pork Belly Quiche (9/10)
This isn't offered on the daily menu but was the special for the day. Specials seem to rotate between various fried rices, curries, and quiches for breakfast/brunch. This daily offered a generous piece of pork belly quiche with gruyere cheese and Fresno chilis. The quiche was light and airy with great texture. The crispiness of the pork belly, saltiness of the gruyere cheese and light heat from the Fresno chilis offered a strong mix of flavors and textures in a strong overall dish.
Sticky Rice with ginger sausage and poached eggs (9/10)
A straightforward dish that is simply dressed with sriracha and xo sauce. The intent is to mix the items together and allow the egg yolk to serve as a sauce and binder for the meal. Again, Elizabeth Street Cafe blends the perfect combination of sweet, savory, saltiness, and heat. A simple salad of herbs brings a fresh note to the dish.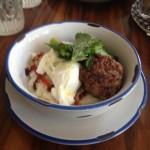 Crispy Vermicelli Cakes with Ginger Sausage and Poached Eggs (7/10)
Crispy vermicelli cakes come with a choice of ginger sausage or pork belly and 2 eggs served in any style. While the eggs and ginger sausage were fairly straight forward, the crispy vermicelli cakes were rather bland. The texture is similar to hashed brown potatoes, however, the crispiness doesn't have the ability the hold throughout the dish. A heavy dose of accompaniments (soy sauce, fish sauce, sriracha, etc) was needed to bring any flavor.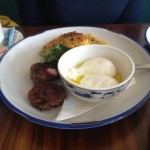 Asian Pear Tart Tatin (7/10)
The dessert special of the day showed promise but fell flat in its delivery. The crust has a good buttery flavor yet was rather soggy. The pears seemed to be canned, instead of fresh and ultimately was the demise of the dish. The caramel sauce on top was solid and wasn't overly sweet.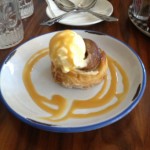 French Donuts (8/10)
Four french donuts are made fresh to order. Light and airy with a crispy crust, these donuts are everything you could ask for in a donut (hot, fresh, sweet, airy and crispy). A simple dish that was well executed.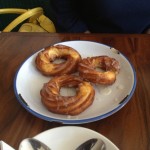 Service (8/10)
We dined on a Sunday morning for brunch. Though the restaurant had a constant influx of people, we were seated fairly quickly. 4 to 5 wait-staff efficiently handled both the indoor and outdoor seating options. One can rely on the attentive wait staff to offer suggestions if making one yourself can prove to be difficult. The dishes were spaced out timely. Coffee cups and water glasses were quickly re-filled.
Ambiance (8/10)
A hip and modern restaurant that seems to dominate this part of town. What looks to be a renovated house is open and colorful. A few of the menu items do seem somewhat over-priced. For those seeking traditional Vietnamese cuisine (pho, banh mi's, etc), smaller restaurants in North Austin may serve as a better option. Elizabeth Street Cafe does offer both traditional and fusion options for Vietnamese food that succeeds in both quality and flavor.
Background on the Food in this Review
Pork Belly Quiche: Quiche is a classic dish originating from the Lorraine region of France. It is a savory open-faced pastry, traditionally filled with eggs, cream, cheese, and often other ingredients such as meat and vegetables. The pork belly quiche takes this classic dish and infuses it with global influences, using pork belly, a cut of meat popular in many Asian cuisines, as well as Fresno chilis for a hint of spice. Gruyere, a Swiss cheese, adds a savory depth of flavor.
Sticky Rice with Ginger Sausage and Poached Eggs: Sticky rice is a staple in many Asian cuisines, particularly those of Southeast Asia. It's typically made from a specific type of short-grain rice that becomes sticky when cooked. Pairing sticky rice with ginger sausage introduces an element common in many Asian dishes – the savory, slightly sweet flavor of ginger-infused meat. Poached eggs and a blend of sauces (sriracha and xo) offer a rich, creamy component and a spicy kick to the dish.
Crispy Vermicelli Cakes with Ginger Sausage and Poached Eggs: Vermicelli is a thin, long type of pasta that is similar to spaghetti but thinner. In this dish, the vermicelli is shaped into cakes and fried until crispy, a technique that lends an interesting textural element. Like the sticky rice dish, it is served with ginger sausage and eggs, but these cakes offer a unique experience in texture.
Asian Pear Tart Tatin: Tart Tatin is a classic French dessert that traditionally features caramelized apples. This version swaps the apples for Asian pears, which are known for their crisp texture and subtly sweet flavor. In a typical Tart Tatin, the fruit and caramel are cooked together, then topped with a layer of pastry and baked. In this dish, the choice to use canned pears instead of fresh may have contributed to its underwhelming execution.
French Donuts: Also known as beignets, these are a type of deep-fried pastry, popular in France and also in New Orleans in the United States. They are typically square in shape and dusted with powdered sugar. Freshly made and served hot, these French donuts offer a simple yet satisfying balance of light, airy texture and sweet flavor.
Reviewed by Shaun, AustinFoodRatings.com