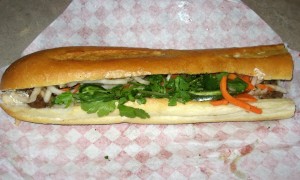 Restaurant: Lily's Sandwich
Location: North Austin, 10901 N. Lamar Blvd A#105, Austin, TX 78753 Map
Phone: (512) 973-9479
Price: $3-$6
Hours: Mon–Sun 9am – 9pm
Food (7/10)
(8/10) Banh Mi Thit Nuong
BBQ Pork Sandwich. This Banh Mi was delicious, with toasted baguette that was both soft and crispy. The pork tasted sweet, flavorful and delicious, but there wasn't a lot of it. The veggies and cilantro tasted fresh. There seemed to be some kind of buttery-cheese crumbles that added a little oomph to the sandwich. Yummy – we will definitely be back for this sandwich and the price only adds to the value!
(6/10) Banh Mi Dac Biet
Lily's gourmet sandwich. This sandwich had a trio of thin, flat meats on it.  We didn't get a clear answer when we asked which meats, but we think it is pork and beef.  The veggies were fresh again, but there was a distinct, dry, odd flavor in the sandwich. We think it may be pate. This was still a solid sandwich, but we'd try another before getting it again.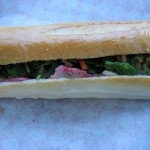 Service (7/10)
The man behind the counter at Lily's was friendly but in a gruff way. There was a language barrier – as he didn't seem to speak English well. This is why we're not sure what all went into our sandwich. He wasn't able to tell us, and it wasn't written on the menu either. He put our sandwiches together very quickly and well, and wore gloves while doing it. We appreciated the sanitary precautions! After we put napkins in our plastic bag, we thanked him and took our food to-go.
Ambiance (5/10)
Lily's Sandwich is located in Chinatown and is very tiny. There are about 4 tables in there. Therefore, this would not be a place for large groups. It is extremely simple and modest, with a few pictures and a clock hanging on the wall. They also sell drinks, dessert, and all kinds of little treats in the store. They also had signs that said they offer catering. If you're in the neighborhood and craving some Vietnamese sandwiches, try a sandwich here. If Lily's didn't strike your fancy, walk over to one of the several Vietnamese and Chinese restaurants in this strip mall.