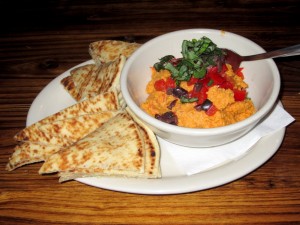 Restaurant: Apothecary Cafe & Wine Bar
Location: Central Austin, 4800 Burnet Rd #450, Austin, TX 78756 Map
Phone: (512) 371-1600
Price: $7–$10
Hours: Mon-Sat 10am – Midnight, Sunday 11am – 10pm
Food (8/10)
(8/10) Roasted Red Pepper Hummus
With warm pita, basil, olives and Aleppo pepper. This appetizer was delicious. The hummus was very flavorful and where was a generous amount of it. We enjoyed the bits of real red pepper in it, and the presentation was pretty too. The pita pieces were perfect – soft and moist. Each bite of hummus & pita resulted in a very happy palate. Start out with this one but save some room for the other menu items!
(6/10) Smoked Chicken & Goat Cheese Crepe
With artichoke, red pepper, and tomato coulis. This was a solid crepe, but nothing to write home about. The chicken and artichoke were cooked well but lacked in flavor. The goat cheese was a nice, tasty addition, but was only placed on top of the crepe, not throughout on the inside. The cold tomato coulis was lost on the crepe, and didn't add much. The side salad that came with the crepe was fresh and complemented it well.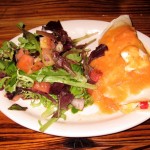 (9/10) Prosciutto & Sliced Mozzarella Panini
With sun-dried tomato and basil pesto. Quite possibly the best panini ever. The bread was hearty and slightly crispy. It was grilled just right. The inside of the panini was delightful – fresh mozzarella, delicious basil pesto, and prosciutto that was bursting with flavor. This panini is large enough to feed a hungry adult, and if you are still hungry there is pasta on the side. But we suggest ending on a panini bite! The pasta is ok, but the panini gets an A+!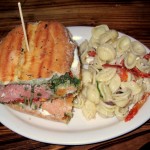 Service (6/10)
We dined on a weekend evening. Apothecary is a seat yourself cafe. We waited about 10 minutes until a table was available, and the waiter came out a few minutes later to clean the table. Our waiter was curt and efficient, but not friendly and barely made eye contact. He brought everything out in a timely manner. We requested to-go boxes but he did not bring out a bag to put them in. We were waiting a while for the bill, so we ended up paying at the register. overall, the food and ambiance impressed us but the service could use some tweaking.
Ambiance (8/10)
Apothecary is located in a strip-mall, with a parking lot at the back of the restaurant. It is a mix between cozy and cramped, yet classy. The interior is dimly lit, woodsy, and has beautiful light fixtures and decor. There seems to be an appealing Moroccan/World vibe. The bar area has a nice feel to it as well. This cafe is better for couples or small groups as seating can be a little challenging. They offer live music several nights a week. East Austinites have Blue Dahlia, and now North and Central Austin residents have Apothecary. We prefer the latter! Besides having a wide selection of dishes, Apothecary is a great place to relax with a cup of coffee or a glass of vino.