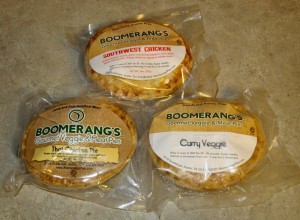 Restaurant: Boomerang's Gourmet Veggie & Meat Pies
Location: 3110 Guadalupe Street #150, Austin, TX 78705 Map
Phone: (512) 380-0032
Price: $6-$8
Hours: Mon-Fri 11am – 8pm, Sat-Sun 12pm – 6pm
Food (7/10)
(8/10) Steak & Mushroom Pie
Grilled steak, mushrooms and onions combined in a traditional sauce with a touch of thyme. Aussie meat pies are handheld, flaky pastries filled with meats and vegetables. The pie crust is extremely delicious, flaky, buttery and tastes fresh instead of pre-made. The steak and mushroom filling was good, but a little dry sometimes. We could have chosen to get a pie floater – where they would cover the pie with mashed potatoes and gravy. Keep in mind this the first time we've had "Aussie" pies, so we don't have much to compare them to.
(7/10) Bootlegger Steak & Cheese Pie
Grilled steak, onions and Monterey Jack cheese combined in a gravy made with Austin's Independence Brewery Bootlegger Brown Ale. This one was fun and cheesy, but lacking in flavor a bit. Also we tasted a bit of vinegar-y flavor that we couldn't identify properly. Still, it was a solid pie. The grilled onions complemented the meat well. The steak was soft and tender. Several of us felt that one pie alone was not enough to satisfy our hunger. A pie and half seemed just right.
(7/10) Southwest Chicken Pie
Grilled chicken breast, green and red bell peppers, corn, black beans and cheddar cheese mixed a signature Adobe sauce. The southwest flavoring was pretty good, and we enjoyed the filling. The Adobe sauce was great. We noticed that all the pies had a consistently wonderful crust.
(7/10) Thai Chicken Pie
Tender marinated chicken, water chestnuts, ginger, cilantro and basil combined in our gourmet Thai peanut sauce. Thai in an Aussie pie…what a fun little combination! The chicken was a little dry at times, but had a good flavor. It was a little odd to have water chestnuts and light, flaky pie crust in the same mouthful, because the textures didn't go well together.
(8/10) Curry Veggie Pie
Broccoli, carrots, mushrooms, peas, onions, ginger and garlic all mixed in our signature mild curry sauce. This one was surprisingly yummy! A good way to get some veggies in too. The curry flavor was more medium than mild, but we were happy because it added a little kick. It was refreshing to see that Boomerang's has quite a few veggie options for their pies.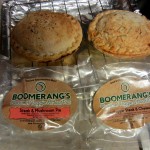 (6/10) Service
The service was average. We would have liked it to be friendlier, especially since we were the only ones ordering at that time. He just seemed disinterested and was not helpful even after we mentioned it was our first time there. If it was busier, we wouldn't have expected as much. The cashier was quick and efficient though, and we bought our frozen pies. We used a Groupon for our order. If we didn't have a coupon, we would have thought the price was a little steep, only because the pie wasn't very filling (no pun intended!) or it may be that we're hearty eaters.
(5/10) Ambiance
Boomerang's has a few parking spots available near the front, and a larger parking lot across the street. The front of the store faces 32nd Street, so it's easy to miss. The inside is a little drab, and a few touches would go a long way. The interior consists mostly of green brick and green pillars, and has tables and chairs for seating. Because of the windows, there is a lot of natural light during the day. There is also a TV mounted in the back corner. Until the service and ambiance improves, we'll continue to get their frozen pies and eat them in the comfort of our own home!