Restaurant: Chez Zee
Location: Northwest Austin, 5406 Balcones Dr, Austin, TX 78731  Map
Phone: (512) 454-2666
Price: Lunch $8-$12, Dinner  $15-$30
Hours: Mon-Thurs 11am – 10pm, Fri 11am – 12am, Sat 9am – 12am, Sun 9am – 10pm
Food (6/10)
(8/10) Jalapeno Cornbread Stuffed Chicken Breast
Skinless chicken breast stuffed with spicy jalapeño cornbread, topped with New Mexico red chile cream sauce. It is served with wild rice pilaf and sautéed vegetables. The chicken is soft and tender, and Chez Zee gave a generous amount of poultry! The jalapeno cornbread was excellent and truly did have the consistency of Thanksgiving stuffing. We only wish there were more of it! The vegetable medley was also good. All the flavors complimented each other very well. We did not realize it until writing this review that they did not give us the rice pilaf.
(7/10) Roasted Pork Tenderloin
Roasted Pork Tenderloin served with Black Cherry Sauce, homemade macaroni and cheese, and sautéed vegetables. The tenderloin was indeed tender and juicy, but a small portion. The black cherry sauce was pretty yummy and only got old on the last few bites. The macaroni was more creamy then cheesy, but nonetheless extremely addictive. We especially loved the breadcrumbs on top. Try dipping a piece of pork into the macaroni…the outcome will be splendid! The vegetables were fresh and plentiful.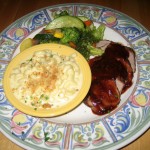 (6/10) Apple-wood Smoked Pork Chops With Black Coffee BBQ Sauce
Two Apple Wood Smoked Pork chops topped with black coffee BBQ sauce. Served with Jalapeño cornbread stuffing and sweet potato pudding. The edges of the pork chop are chewy but the inside tasted better. The sauce is interesting and went well with this dish. As mentioned before, the stuffing is fabulous! The pudding is delicious too. For this dish, the side-shows turned out to be better than the main attraction!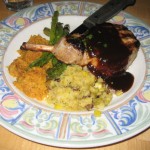 (3/10) The Zee Burger Noir
This burger comes with a beef tenderloin patty that is marinated in pinot noir balsamic vinegar on Limpa rye bread. It's also toasted with walnut gorgonzola butter, mushrooms, caramelized onions and comes with a side of coleslaw. We'd like to point out to our fellow foodies that we are handing out the first "3" to this dish. The bread was thick, dry and so overpowering that it sucked the flavor out of the burger. We requested for the beef to be cooked medium, but it was definitely well-done and was almost as dry and flavorless as the bread! We were left wondering where the pinot noir and walnut gorgonzola flavor went…the only saving grace was caramelized onions. Do yourself a favor and stay away from this one!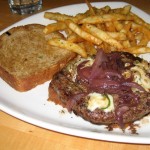 (5/10) Chocolate Decadence Cake
Four Layers of dense chocolate cake brushed with seedless raspberry preserves, filled with mocha mousse, then covered with a chocolate ganache. Since we are chocolate lovers, we had to order this heavenly sounding dessert. We salivated at the sight of this large slice of chocolate delight. We quickly dug our forks in and took a big bite…smooth, creamy, and rich chocolate filled our mouths. You might be wondering why we didn't give it a perfect 10. This is because everything I described was the ganache that the cake was topped with. The raspberry was yummy too but the whole inside of the cake was dry and crumbly, and not chocolaty. It is rare when we don't finish a chocolate dessert, but it does happen on occasion!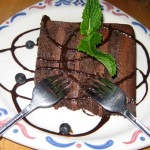 Service (6/10)
We dined at Chez Zee on a bustling Friday night. After a short wait, our large group was seated in what seemed to be the group dining area. Our waitress got the job done, but was not very personable. She did take our drink and food orders at appropriate times and fulfilled our extra requests in an accurate and timely manner. When it came time for the check, she split it up for each of the couples at our table which was a big help. Overall, the service was adequate – nothing to complain about, but nothing special either.
Ambiance (8/10)
We pulled up to Chez Zee and parked in their smallish parking lot and walked towards the unassuming restaurant. We walked through the doorway that led us down the cozy interior patio. It was a patio unlike anything we have seen before. It is surrounded by walls on both sides, lush greenery and casually decorated to give an indoor feel – but then the Texas humidity knocked us back into reality. Finally, we entered the restaurant and were instantly hit by the brightly lit interior.  Christmas lights and shiny objects filled the restaurant, giving a magical Disney World feel to it. Not to mention the large red piano in the middle of the dining area where patrons can hear live music on weekends. Chez Zee is quite large with bar seating and group dining areas in addition to the standard dining areas. If you are looking for a quiet romantic dinner, this is not the place to go! It was so loud we had lost our voice by the end of the night from competing with the voices of other diners and the piano. If you are looking for a fun, boisterous atmosphere to enjoy with a couple of friends or a large group, this may be the right fit.