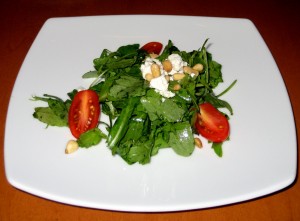 Restaurant: Cru Wine Bar
Location: The Domain, 11410 Century Oaks Terrace, Austin, TX 78758 Map
Phone: (512) 339-9463
Price: $15 – $25
Hours: Mon-Tue 4pm-10pm, Wed-Thu, Sun 11am-10pm, Fri-Sat 11am-11pm
Food (6/10)
(7/10) Cru House Salad
Wild arugula, watercress, fennel frond, pine nuts, ricotta salata and meyer lemon vinaigrette.  We thought we were at a fancy restaurant when we received this salad. It looks very classy and tasted pretty good as well. The pine nuts and ricotta are what really made this salad delicious. The arugula was mildly bitter, but the vinaigrette masked it well.
(5/10) Bibb Salad
Torn bibb, peaches, brown sugar cured bacon, blue cheese vinaigrette, and slivered onions. This salad looked like food items out of a school cafeteria that was placed on a nice plate. The bibb was very low quality and was barely distinguishable from iceberg lettuce. The two giant (obviously from a can) peaches stood out like a sore thumb and added nothing to the salad. The bacon and cheese were good, but were lacking in quantity.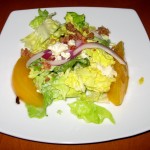 (7/10) Steamed Prince Edward Mussels
White wine, parsley, garlic, shallots and lemongrass broth.  We do not see mussels very often on Austin's restaurant menus, so we thought we would give it a try. If you are not used to eating them, you might be deterred by the sight of the shells. But don't worry, the mussels are very easy to remove.  The mussels were cooked well as they were not chewy. The broth was excellent and complemented the mussels very well. Overall, this was a solid choice that we would order again.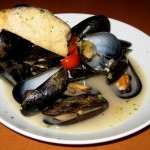 (8/10) Pan Roasted Chicken Piccata
Lemon, white wine, capers and spicy broccolini. This dish really took us by surprise! The chicken was cooked to perfection. It was an extremely tender breast of chicken. The sauce and capers added a burst of flavor that made this dish addictive. The broccolini was cooked nicely and tasted great since it was swimming in the white wine sauce. Do your taste buds a favor and order this dish!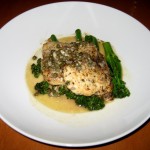 (4/10) Petite Filet
Niman ranch tender, creamed yukon gold potato, gorgonzola herb roasted amorosa tomato.  We had high hopes for this steak but we were severely disappointed. First of all, they were not joking when they said petite. Usually this means 6oz, but here it was only 5oz. Secondly, this was the toughest filet mignon we have ever had. Even though we ordered it medium rare, it was barely edible. We might as well have been eating a shoe.  We didn't care much for the gorgonzola tomato either. The only bright spot in this dish were the average mash potatoes.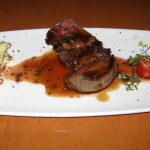 (4/10) Chocolate Fondue (For Two)
Strawberries, bananas, apple, angel food cake, and biscottis. The fondue was another big setback. The chocolate tasted like a mix of dark and bitter-sweet chocolate. It was mildly sweet and did not have a chocolatey taste.  Only the angel food cake and biscottis went well with the chocolate since these were already sweetened. The sour green apple was horrible and the other fruits were okay. Do yourself a favor and grab a dessert from across the street at NoRTH instead.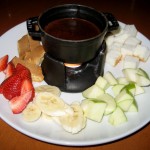 (6/10) Cookie Cake With Ice Cream
Chocolate chip cookie cake topped with a scoop of vanilla ice cream. This dessert was good, but it is nothing like a real cookie cake. The chocolate chips were plentiful but it was very one dimensional. The texture of the "cookie" or "cake" did not come through. However, combining it with the ice cream makes a drastic improvement. The vanilla and chocolate flavors go really well together. This dessert is good, but has a lot of room for improvement.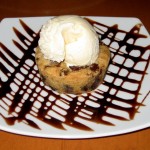 Service (7/10)
We dined at Cru on a weekday evening for Austin Restaurant Week. When we arrived, we were promptly greeted by the hostess and taken to our table. Since it was our first time dining here, she briefly explained the wine menu. For Restaurant Week, there was a special three-course menu that we ordered from.  She was very helpful when we asked her questions regarding the menu. Each of our courses came out in a timely manner and our waters were refilled promptly. At the middle of the meal, the stressed looking manager hastily made his way over tob our table to see if everything was ok. We would normally appreciate this gesture, but there was no sincerity in it. The restaurant was not even half filled, so we can't imagine him on a busy night. Overall, the service was very efficient and pleasant.
Ambiance (8/10)
Cru is a cozy wine bar located in The Domain shopping area.  When you walk in, the first thing you will notice is the floor-to-ceiling wine cellar containing hundreds of bottles of wine. In the late evening, a staff member lines the shelves of the cellar with tea-light candles to give off an elegant glow. One of the walls of the restaurant has a giant mural of wine labels. This might sound tacky, but the color scheme they chose makes you feel like you are in Italy. There are a variety of seating options to choose from, including a bar, booth, and tables (indoor and outdoor).  Street parking is limited, but there is amply parking in the nearby free garage. Cru is good for couples as well as small groups. Since their food is hit-or-miss, it may be wiser to come here for an after dinner drink.