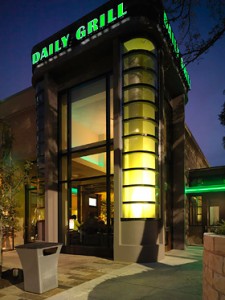 Restaurant: Daily Grill
Location: The Domain, 11506 Century Oaks, Austin, TX 78758 Map
Phone: (512) 836-4200
Price: $15-$20
Hours: Mon-Thur 11am – 10pm, Fri-Sat 11am – 11pm, Sun 11am – 9pm
Happy Hour: Mon-Fri 4pm – 7pm, 9pm – close, Sat-Sun 5pm – 7pm
Food (4/10)
(7/10) Chicken Pot Pie – Happy Hour
Ordering this dish is a must when eating here! The bowl is covered with a huge dome of delicious flaky crust and the inside consists of a warm, thick, gravy with plenty of vegetables and chicken.
(3/10) Hummus – Happy Hour
The hummus was plain and lacked flavor and the pita bread was mediocre and also on the chewy side. If you are looking for good hummus, try the Sabra hummus with roasted pine nuts from H-E-B.
(2/10) Ahi Tuna Wrap – Happy Hour
The menu description of this dish sounds exciting and flavorful, but did not live up to our expectations. The wrap was bland and left us wondering where the spices, avacado, tomato, and wasabi were.
(5/10) Chicken Quesadilla – Happy Hour
These should have been called cheese quesadillas given the tiny amount of chicken they put in there. But if you like cheese like we do, then you will enjoy it…especially when dipped in the jalapeno salsa.
(4/10) Cobb Club Sandwich
If you have a big mouth, then this sandwich is for you. The chicken comes stacked mile-high but unfortunately it was very dry so you'll need something to wash it down with. Not to mention, the bacon was rock hard so be careful or you might lose a filling!
Service (5/10)
We sat in the bar area so the service was minimal. We had to ask to get our water refilled and the waitress was missing when it was time to pay the bill – even though the restaurant was not crowded. Service could have been better, but it won't prevent us from dining here again.
Ambiance (7/10)
The Daily Grill is spacious and consists of 3 main seating areas: indoor dining area, outdoor patio, and the bar. The restaurant is tastefully decorated and has a great trendy/casual mix to it. This place is perfect for singles as well as couples.