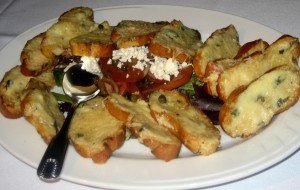 Restaurant: Freda's Seafood Grill
Location: Northwest, 10903 Pecan Park Road, Austin, TX 78750 Map
Phone: (512) 506-8700
Price: Lunch $8-$14, Dinner $10-30
Hours: Mon-Thurs 11am-10pm, Fri-Sat 11am-11pm, Sun 10am-9pm
Food (6/10)
(8/10) Romano Bruschetta
French bread croutons with basil aioli & roasted bell pepper relish, topped with capers & feta cheese. The bruschetta was delectable and had a unique flavor. The combination of bell pepper relish with feta cheese atop a crunchy Baguette is just scrumptious. The serving size is also plentiful, so be nice and share with your fellow diners!
(6/10) Freda's Crab Cakes
Tender blue lump crab filling, with a crispy Japanese bread crump coating, served in a lemon beurre blanc and capers. Beurre blanc is a French white wine and butter sauce that usually complements seafood well. There was nothing wrong with the crab cakes but they tasted like garden variety ones. We couldn't really taste the essence of the beurre blanc, and the capers were overpowering. The scattered corn was a nice touch. The crab cakes were cooked well, but unfortunately tasted bland and boring.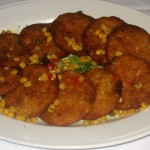 (5/10) Golden Calamari
Lightly hand breaded and served with spicy marinara sauce. The calamari had a nice batter but must have been fried a little too long. They were slightly chewy, and we prefer the tender melt-in-your-mouth kind instead. The marinara sauce wasn't really spicy or special either.  A very mediocre and slightly pricey appetizer.
(5/10) Spinach Artichoke Dip
Creamy three cheese dip, with homemade salsa and corn tortilla chips. We forgot to snap a picture of this one, but don't worry because you aren't missing out too much. The tortilla chips may have been our favorite part. The dip needed more spinach flavor and it did not taste homemade. Next time you are at H.E.B, pick up Ana's Medium Salsa in the produce section – that is some good stuff!
(8/10) Center Cut Filet
Featuring hand cut, char grilled using Best Gas Grills, USDA Angus Beef which is aged for a minimum of 21 days to ensure a distinctive tenderness and flavor. Served with russet potatoes and asparagus. We ordered the tenderloin to be cooked medium. This is quality meat – there weren't any fatty pieces at all. Freda's did an excellent job cooking it because the edges were still juicy and faintly crisp, but not burnt. Tender and flavorful, we could barely put our fork down once we started!  The asparagus was cooked just right, with a little oil and a good crunch. The potatoes were flavorful but definitely oversalted. We'd order this again as it was a well balanced and deliciously hearty choice.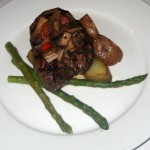 (7/10) Decadence Chocolate Cake
Chocolate pudding between layers of dark, moist, drenched chocolate cake. Chocolatey, chocolatey…did we mention that this dessert is chocolatey? The three layers of chocolate are densely packed. You might be tempted to scarf this down, but consider eating it slowly instead. The chocolate is very rich and thick and feels like you are eating straight out of a container of Betty Crocker chocolate fudge. Some may love this, but we thought it was a bit on the dry side. The plate was garnished with a raspberry sauce, but there was not enough of it. Surely, this will fulfill your chocolate craving but we expected something a bit more sophisticated from this caliber restaurant.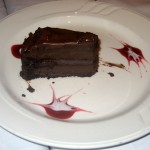 (8/10) White Chocolate Bread Pudding
This is Freda's signature dessert. It is simple and sweet – served with caramel & white chocolate sauce. This is one of the best bread puddings we've had in Austin. The texture of it was almost perfect – smooth and creamy without bread overload. It also had just the right amount of sweetness so you could potentially eat the entire thing and not feel sick. Most restaurants serve bread pudding with ice cream, but this one didn't need it. The drizzled white chocolate is a nice touch and complemented it well. Our only complaint is that this dessert isn't Texas-sized!
(6/10) Key Lime Pie
Tart custard resting in a graham cracker butter crust. This is a lighter, more refreshing option than the two heavier desserts above. But there is usually a catch when you try to eat healthier – it's not as fun to eat. The custard filling seems to have the right amount of tartness, but the graham cracker crust is a little tough. It was also a skinny piece of the pie – boo.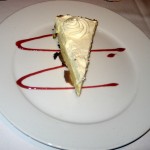 Service (9/10)
There was a large group of us and were seated in the special side room. As we arrived one by one, the courteous hostess pointed us in the right direction. Our waiter was extremely polite and attentive without being overbearing – no small feat. They were knowledgeable about the menu and familiar with the wines as well. Our waters were refilled and they checked on us at appropriate times. When we mentioned that we were freezing, they adjusted the temperature without hesitating. The waiters and runners at Freda's are hard-workers and aim to please. They also brought our food out at perfect intervals, and we never felt hurried. This level of professionalism did not go unnoticed. We let them know more than once that we appreciated the measures they took to ensure that everything went smoothly.
Ambiance (7/10)
Freda's is located in a suburban area near Lakeline Mall. It can be easily missed so keep an eye out for it. There is plenty of parking right outside. Freda's has several rooms, including bar seating, table seating and a small outdoor patio. The décor includes wood and marble, and is casually upscale. The lighting is a bit subdued which makes it a great place for a romantically mellow dinner or for a lively happy hour with friends. They also play sports games on the televisions near the bar. This might be nice place for a nice salad, steak, wine and dessert but your wallet will feel lighter when you leave!