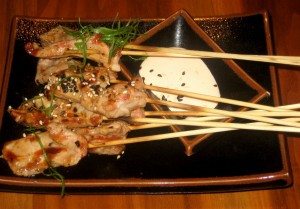 Restaurant: Jasper's
Location: Domain, 11506 Century Oaks, Austin, TX 78758 Map
Phone: (512) 834-4111
Price: $22-$32
Hours: Mon-Thurs 5m – 9pm, Fri 5pm – 10pm, Sat 12pm – 10pm, Sun 12pm – 6pm
Food (6/10)
(4/10) Thai Style Ginger-Citrus Marinated Pork Satays
Served with Sriracha and sweet soy sauce. The skewers (and Jasper's was generous with the quantity) came out nice and hot, but it tasted only a few notches above cardboard. The pieces were hard and slightly chewy, and lacked a flavor. Dousing them in the sauce definitely helps. Steer clear of this one, foodies.
(10/10) Buffalo Style Rock Shrimp
The shrimp sat on pickled red onions, and this dish is served with maytag blue cheese and some other buttery sauce. One word – PERFECTION! The flavor of the buffalo style popcorn shrimp is unparalleled. The slightly crunchy pickled onions complement the shrimp really well. In addition, both dipping sauces are spectacular! The liquid-textured blue cheese packs a mini-punch and tastes fantastic with the shrimp. Order this and get ready to sink your teeth into batter-dipped deliciousness.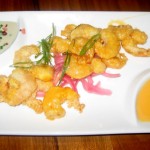 (5/10) Prime Rib Carne Guisada Flautas
With a side of jicama slaw, and some creamy chipotle dipping sauce. Out came four small flautas with a crispy corn exterior. This dish is a little bland, but not unpleasant. The inside sounded promising, but we couldn't really taste much carne (meat). Similar to the disappointing pork satay, these flautas relied heavily on the yummy sauce. The jicama slaw is nothing to write home about either.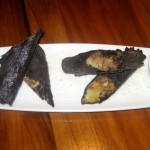 Service (8/10)
We went to Jasper's for happy hour, but apparently they have happy hour all the time in the bar and patio area. The hostess was friendly and told us it was self-seating. Our waitress brought us menus and took our order in a timely manner. We ordered the drinks that she recommended and were very satisfied with them. Although it was somewhat busy, we didn't have to wait too long to get our food. If the service is this great during happy hour in the bar area, it will probably be equally stellar or even better for dinner!
Ambiance (8/10)
Since Japser's is located in the Domain, there are limited parking spots immediately surrounding the restaurant, but there is a free garage close by. The décor inside the restaurant is beautifully contemporary and sleek, with ambient lighting including overhead spotlights, and walls adorned with vibrant artwork. There is a large, well-placed window overlooking the courtyard area of this trendy shopping area. The fresh flowers and small candles on the tables were a pretty accent. There is patio, bar and restaurant seating available. It's good for small or large groups, or date nights. This could be a nice spot to grab some drinks and appetizers from their $5 happy hour menu. Or better yet, just walk across the courtyard to Joe DiMaggio's for their happy hour selections!