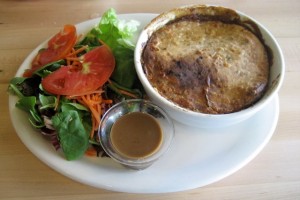 Restaurant: Kerbey Lane Cafe
Location: Northwest Austin, 13435 Hwy 183 N. Austin, TX 78750 Map
Phone: 512-258-7757
Price: $6-$10
Hours: 24 Hours a Day/7 Days a Week
Food (7/10)
(5/10) Shitake Pot Pie
The Kerbey Lane Fall Special menu had a wide selection of exciting sounding dishes, so we decided to try the Shitake Pot Pie. The pot pie is filled with hippie burger bites (vegetarian), shitake mushrooms, potatoes, celery, red bell pepper and comes with salad on the side.  Right off the bat, we noticed the overly strong taste of black pepper and the very thick gravy which made this dish unpleasant.  The pie crust was thick and not appetizing like other pot pies. The best part of this dish was the side salad. If you want a better pot pie, try the Marie Callender's Chicken Pot Pie from the frozen section at HEB.
(8/10) Kerbey Scramble
Kerbey Lane is well known for their 24/7 breakfast items, so we decided to give the Kerbey Scramble a try. It comes with two scrambled eggs, homefries, mushrooms, tomatoes, green onions, and cheddarjack cheese.  For our two sides, we chose wheatberry bread (yummy!) and fresh fruit.  The inclusion of seasoned homefries was excellent and went great with the eggs and toast. Overall the dish was very satisfying and delicious!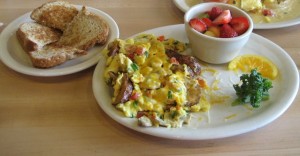 Service (7/10)
We visited Kerbey Lane during the weekday lunch hour and were seated promptly. The waitress was pleasant and checked up on our table periodically and we only had to ask once when making requests. Was a good experience with no complaints.
Ambiance (6/10)
Kerbey Lane has been a local favorite for nearly 30 years and has several locations in the Austin area.  The suburban location we visited is their newest and has a much different feel than the others – it does not have the "Austin" feel to it.  Parking is more than sufficient since it is located in a large strip mall. The interior is clean and simplistic, yet well decorated. However, the restrooms were not as well kept. The indoor seating areas are quite large which makes it good for large as well as small groups.