Restaurant: Marie Callender's
Location: Arboretum, 9503 Research Blvd Suite 400, Austin, TX 78759 Map
Phone: (512) 349-7151
Price: $8-$14
Hours: Mon-Sat 6am – 10pm, Sun 9am – 10pm

Food (6/10)
(6/10)  Quiche & Salad Sampler
A baked quiche with applewood smoked bacon, spinach, provolone and mozzarella cheese topped with a tomato slice. Served with chicken Waldorf salad made with apples, cranberries and raisins. Also included is a side of spring salad with balsamic vinaigrette, mandarin oranges and caramelized pecans. The quiche tastes too eggy and the middle was pretty mushy. We prefer quiches with more solid substances (like the ones at La Madeline!) The crust is good with the exception of a few chewy bites. One positive is that the quiche is larger than it appears on the menu. Both salads were above average! The chicken, fresh spinach leaves, nuts, and fruit complemented each other well. Next time we will ask for the dressing on the side though because the spinach leaves were drenched in it.
(7/10) Heartland Chicken Pot Pie
Marie Callender's is famous for their chicken pot pie and you can even find the frozen variety at your local grocery store. The frozen ones are pretty good so naturally, we gave this one a try since it is made fresh.  This pie is loaded with tender chunks of roasted chicken breast and various vegetables, topped with a flaky crust. The gravy is just right – not too thin but not too thick either. The portion is large and can easily feed one person, however, it is just a bigger version of the frozen kind.  We expected more out of this since we ordered it from a restaurant rather than H-E-B.  Overall, the pot pie was tasty and satisfying, much more so than the shitake pot pie at Kerbey Lane.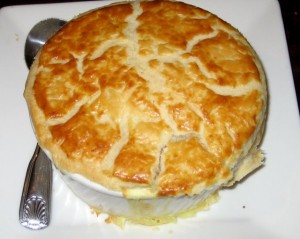 Service (6/10)

The hostess was efficient but our waitress was inexperienced. Although she was polite, she was unable to give us any menu recommendations. She did check up on us once during our dinner. But then when we were finished eating, she never removed any of the plates. Even when we asked for the bill, she went to get it and the plates were still on our table. Again, we think her etiquette did not reflect the high prices on the menu.
Ambiance (4/10)
Menu prices are steep considering Marie Callender's has a IHOP-type atmosphere (which is why the wine bottle on every table looks out of place). We had dinner around 8 pm on Sunday and halfway through our meal, someone started vacuuming the carpet. He cleaned the entire room and the room was half-full of shocked patrons. It was still 2 hours until closing so that seemed really poor taste. There are plenty of tables and booths, as well as parking outside. The simple décor reminds us of a diner. Again, they seemed to be aiming for casual upscale but ended up being bare and inconsiderate.