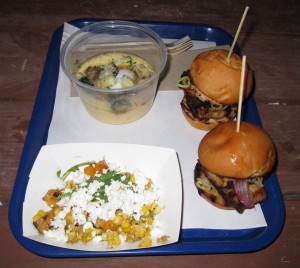 Restaurant: Odd Duck Farm To Trailer
Location: South Austin, 1219 S. Lamar Rd, Austin, TX 78704 Map
Phone: (512) 565-4149
Price: $4 – $6 (~$10 per person)
Hours: Tues-Sat 5:30pm – 10pm
Food (7/10)
(6/10) Gouda Grits
With soft boiled chicken egg, grilled zucchini and mushrooms. These grits were semi-creamy and still retained their earthiness. The squash and mushrooms added a nice touch, but the egg is what gave it some extra oomph. The egg was cooked to perfection so that when you break into it, the yolk pours out and blends into the dish. However, these grits were still too old-fashioned tasting and were not savory. Not to mention, it did not seem to complement anything else on the menu.
(8/10) Pork Belly Slider
With sauerkraut, onion, paprika aioli. There aren't many places in Austin to get a pork belly slider, but Odd Duck did it right. The pork belly was grilled just right and was flavorful, tender, and juicy. The quality of the meat was on par with nice sit-down restaurants around town. This combined with the soft and moist bun will make you want to order several of them!
(7/10) Grilled Corn Salad
With butternut squash, feta cheese, and thyme dressing. The corn salad was pretty good and the feta complemented it well. The thyme dressing was mild. Although it was a side, it was still a pretty small portion.
(7/10) Service
The girl taking our order was friendly and helpful. She told us what some of the favorites were, and was honest about the wait time. She said it would be about 45 minutes, and they would find us and bring our order to us. Sure enough, about 45 minutes later they brought out our food. The ordering process was efficient. They were just backlogged with orders because it was extremely busy on a Friday night.
(7/10) Ambiance
Odd Duck operates as a food stand in South Austin, and shares space with Trey's and Gourdough's. The area around the trailer is still gravelly, which has pros and cons. The upside is that you don't have to worry about ants and other inspects crawling on your feet. The downside is that the ground is rocky and you have to be careful not to step on a sharp stone. It's not very wheelchair accessible, but there are several benches with umbrellas. There are also Christmas lights up everywhere, which adds a fun dimension at night. Another plus is that the whole outside seating area is BYOB. Odd Duck uses mostly local, farm fresh ingredients so their prices reflect that. When you're in the mood for gourmet food in a casual environment, grab your favorite bottle of vino and head over to Odd Duck Farm to Trailer.