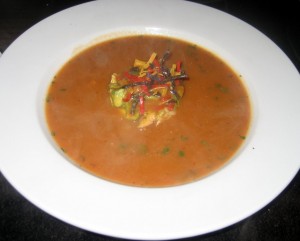 Restaurant: Roaring Fork
Location: Northwest, 10850 Stonelake Blvd, Austin, TX 78759 Map
Phone: (512) 342-2700
Price: Lunch $10-$15 Dinner $15-$30
Hours: Sun-Thu 11am – 10pm, Fri-Sat 11pm – 11pm
Food (5/10)
(4/10) Tortilla Soup (Appetizer)
Includes wood roasted chicken and avocado served as an island at the center of the soup bowl. The soup base is watery and bland which is much different than what you will find at Mexican restaurants. The avocado was plentiful, however the chicken was non-existent. Don't get this soup, especially if you enjoy tortilla soups at other restaurants.
(6/10) Kettle of Green Chili Pork (Appetizer)
Small iron kettle of green chili pork stew, melted jack cheese, and flour tortillas. This dish was highly recommended by our waiter so we had to get it! The pulled pork is very tender the stew has very good flavor, although lacked spice except for one hidden chili pepper that sparked a fire in our mouth. The flour tortillas were soft and delicious, but the watery stew made it extremely messy to eat.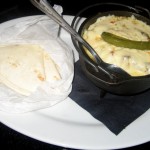 (7/10) Rotisserie Chicken Flatbread (Appetizer)
Flatbread pizza with chicken, basil pesto, roasted chilis, and cheese. If you are looking for something mouthwatering, then get this! The flatbread is basically a thin crust pizza with a generous amount of melted cheese and plenty of tender chicken. It was so good we ordered a second one! However, Roaring Fork needs to work on their consistency because the second one had considerably less cheese.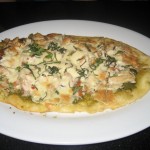 Service (8/10)
Everyone at Roaring Fork is laid back while maintaining a high level of professionalism. Our waiter was friendly and offered a few suggestions when we asked for his opinion. He did forget one of our drinks, but bought out all the food promptly. The drinks were so good that we didn't mind. We also got a small basket of warm and delicious jalapeno cornbread muffins! During happy hour, drinks are $2 off and all appetizers are $4 off – a pretty snazzy deal.
Ambiance (9/10)
This restaurant is in a great location – overlooking Quarry Lake. Parking is easy, and valet is also available.  Their inside is very spacious, including tables, booths and bar seating. The bar is one of the largest we've ever seen in a restaurant so you won't feel claustrophobic during happy hour. There is also a beautiful patio outside. The decor at Roaring Fork is modern, chic with a casual to upscale vibe inside. It's good for couples as well as groups, and ideal for happy hour on the inviting deck. Dinner prices are steep, and the food was mediocre at best.