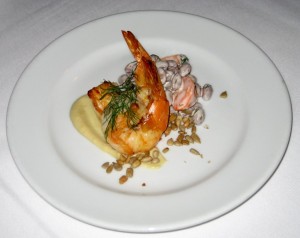 Restaurant: Zoot
Location: Southwest, 11715 Bee Caves Road Austin, TX 78738 Map
Phone: (512) 477-6536
Price: $20-$30
Hours: Mon-Thurs 11am – 9pm, Fri 11am – 10pm, Sat-Sun 5:30pm – 10pm
Food (6/10)
(7/10) Sauteed shrimp with shell beans, carrot, dill and eggplant puree
This item along with most of our choices were from the Chef's Tasting Menu. The jumbo shrimp was perfectly cooked and delicious. The shell beans were tasty but an odd complement because they were a bit dry. The eggplant puree was innovative and pretty good. This was a solid dish, and the portion size was acceptable for a fancy restaurant.
(5/10) Heirloom tomato salad with braised bacon, lettuce, pepitas and horseradish aioli
This salad was very small, even for a tasting menu item. We thought this might be a refreshing choice on a warm summer evening, and it would have been had there been more than a few bites. The bacon was very salty, and there was hardly enough lettuce. The pine nuts added a nice touch but it was difficult to get those in the same bite as the tomato.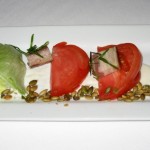 (5/10) Sauteed snapper with snap peas, bok choy, fennel salad, hazelnuts & 5 spice broth
We were looking forward to this sampling but it was another letdown. The broth was tasteless, as was the snapper and the vegetables accompanying it. The vegetables did taste fresh, and the sweetness of the hazelnuts did bring an interesting flavor to the mix. The bok choy tasted too salty.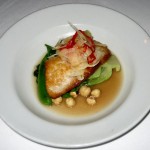 (8/10) Grilled ribeye with warm German potato salad, mushroom puree and scallions
Finally a winner! The ribeye was tender and succulent, but a little too salty for our palates. The warm potato salad was delicious but also too salty. The mushroom puree and scallions went very well with this dish. We would be happy with the ribeye and the mushroom puree as our entire meal!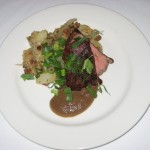 (6/10) Spring risotto with English peas, asparagus, dandelion greens and radish
We chose this one from the Farmer's Tasting Menu. This dish had the largest portions so order this if you want bang for your buck. However, there was a disconnect between the wonderful menu descriptions and the flavor of the food. The risotto was pleasant, but nothing about it stood out. The dandelion greens and vegetables were bland. Also – the dish didn't even look appetizing with those large, thin round pieces of radish scattered on top.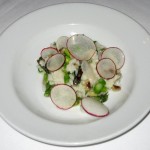 (4/10) Grilled walu with swiss chard, quinoa, radish salad and maroon carrot puree
We wanted to be adventurous and order something we haven't heard of. Apparently walu is similar to escolar – so we weren't that brave after all. In what seemed to be the common denominator between most of the dishes – the walu was so salty that it was inedible. It was also overcooked. We were already dehydrated from eating too many salty dishes and sent this one back. Our new walu was completely tasteless. Sadly, over-salted or bland seem to be the choices. The swiss chard was decent, the carrot puree was delightful and there was a hint of earthiness in the quinoa which made it very enjoyable.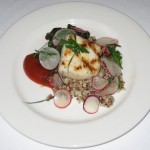 (7/10) Flourless chocolate cake and toasted nut florentine, orange curd & raspberry sauce
We usually like flourless chocolate cakes and this one was no exception. The first thing we noticed when our plate came out is it was unbelievably small. Perhaps since it was on the tasting menu…it was more of a flourless chocolate brownie bite! Nonetheless, we enjoyed the rich, dense chocolaty flavor. The toasted nut florentine on top was very crunchy but savory. The orange curd and raspberry essence complemented this cake beautifully. Because one or two bite is just a tease, order a full size portion of this dessert!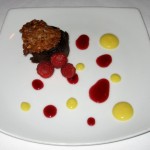 Service (6/10)
We dined on a quiet Sunday evening. There were only a few other patrons. We made reservations and were seated promptly. We had several waitstaff, which we didn't mind at all. But what irked us is that each one seemed inattentive or scatterbrained. The waiters seemed very focused on bringing our dishes out, but didn't really explain what we were eating or ask if we needed anything. We also felt a bit rushed during our experience here. The one nice thing is when we told our waiter that the walu was too salty – they took it back and brought out another one…but it took 25 minutes. Zoot is lacking in warmth and a personal touch. For instance, even though it was sweet that the menu stated Happy Birthday, nobody actually said it, and they looked inconvenienced when we asked them to take a picture of our table. For this caliber of a restaurant, we expected the service to be better, but unfortunately it matched the food.
Ambiance (7/10)
Zoot is somewhat far from central Austin, and is located in an upscale strip mall. Parking is not an issue, and there is a wine bar next door. The ambiance is comfortable while remaining mildly sophisticated. The décor itself is muted and commercially minimalistic…it has a bit of a cold vibe to it. The upholstery on the chairs have a nice modern design, and there are gray painted canvases on the walls. Zoot has potential, but  needs polishing in several different areas. The menu looks fantastic, yet the execution is lacking.  For a lovely dining experience, we highly recommend Zoot's sister restaurant Wink!