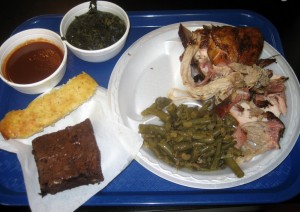 Restaurant: Mann's Smokehouse Bar-B-Que
Location: North Central, 8624 Research Blvd, Austin, TX 78758 Map
Phone: (512) 459-5077
Price: $6-$13
Hours: Tues-Fri 11:15am – 8pm, Sat 1130am – 8pm, Sun – Mon Closed
Food (4/10)
(7/10) Pulled Pork
Mann's Smokehouse made Texas Monthly 2008 Top 50 BBQ places, so we did have a few expectations upon receiving our food. The pulled pork was pretty juicy, moist and flavorful. The portion though, was very small. We got it as part of the four meat combination plate. The pork lived up to our expectations, but it was all downhill from here.
(3/10) Chicken
We got the white meat chicken – it was so overcooked that parts of it were inedible. Seriously – it was bland and drier than the Sahara Desert. We doused it in the mediocre BBQ sauce and tried to eat a little more. We are aware that most people visit BBQ joints to eat sausage, ribs and brisket, but still we thought we would try a variety of meats. Perhaps we will fare better with the turkey…
(5/10) Turkey
No such luck. Did we come on an "off" day? The turkey was good quality but had no flavor. It wasn't even warm temperature-wise…actually none of the meats came out hot or warm. Mann's was generous with the amount of turkey we received though. If you are looking for deliciously flavored, tender turkey – try Rudy's. Their slices are thinner, tender, and much better seasoned.
(4/10) Lean Brisket
Again we understand that we got the lean cut, but the texture was dry and had no smoky goodness to it. It was a bit like chewing on cardboard. It had no flavor and also had to be generously dipped in sauce.
(5/10) Green Beans
The green beans tasted ok, but they watery and mushy. Also, in sticking with the theme off the food – they were lacking in flavor. We knew we should have gotten the mashed potatoes…gosh darn it for trying to be healthy!
(3/10) Turnip Greens
We thought we were getting spinach but the lady told us these were turnip greens. Well we made the bitter beer face after trying these because they were incredibly bitter. This side item made the beans look like rockstars.
(7/10) Brownie
On Tuesdays and Thursdays, Mann's offers complimentary brownies to everyone. And not just a bite, but a pretty large square slice! The brownie may have been the best part of our whole meal. It was chocolaty and had some walnuts mixed in there…yummy.
Service (6/10)
We wanted to beat the lunchtime rush, so we dined at Mann's soon after they opened for the day. To our surprise, we found about 15 other patrons in line ahead of us.  We waited for about 20 minutes until it was our turn to order. The owner himself was the one that took our meat order. It was like he worked in an assembly line distributing the meats – no small-talk or personal touch. However, his wife is in charge of serving the side-items and working the cash register and she was much more friendly and personable. Perhaps the line would move much quicker if they hired an additional helper behind the counter. We also noticed that no one came around to clean the tables. On the way out, there is a sign that says "ring the bell if you had good service" – we did not hear it once. Overall, the service was adequate.
Ambiance (6/10)
Mann's Smokehouse occupies the building of what used to be a KFC. The location is not the best because it right under a major highway. Parking is limited, but you can also park in the lot for The Money Box. The décor is casual and kitschy. It consists of advertisements from the 1960's, license plates and rodeo memorabilia. They have large communal seating, but also smaller tables – so it would be good for groups. Although the complimentary brownies were a very nice touch, we were disappointed in our experience here…nothing stood out or seemed memorable. There are too many other BBQ joints in and around Austin that we would like to visit.