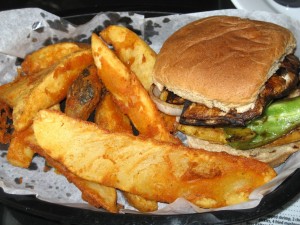 Restaurant: Mr. Bones BBQ
Location: North Central, 1201 Barbara Jordan Blvd, Austin, TX 78723 Map
Phone: (512) 291-6770
Price: $5-$15
Hours: Sun – Sat 11am – 10pm
Food (3/10)
(4/10) Portabello Burger
Served with french fries and a side salad. The bun was soft and warm, but the portabello mushroom itself was more charred than grilled. The zucchinis and onions were mushy, and the whole burger was pretty dry. The French fries were huge and plentiful. They were seasoned nicely, and since we couldn't eat much of the burger, we kept munching on these huge pieces of fried potatoes. Seriously, look at the picture – one of the "french fries" ended up being as big as the burger! The side salad was of a decent size, but did not taste very fresh. We wouldn't recommend this burger, but maybe Mr. Bones was having an off day.
(2/10) 2 Meat Combo Plate
Comes with two side dishes, bread, sauce, pickles and onions. We chose the pulled pork and the turkey. We also picked the candied yams and the macaroni and cheese as our side items. This was by far, the worst piece of turkey ever. Not only did it smell strongly of burnt tires; it also tasted like rubber bands. We were truly horrified at the poor quality. The pork was only a notch better. It came on a bone and did not have much meat. The first bite seemed ok, but then it got drier and drier and some pieces included the outer skin, which were too hard to chew on. The BBQ sauce was decent. The candied yams must have come straight from a can because they were very watery, mushy, and had no flavor. The processed-tasting cheese had dried on the macaroni – as if it were sitting out for a while. We requested wheat bread and got two slices – it was fine. Overall, a very disappointing lunch.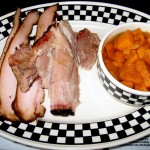 Service (3/10)
It started out well – we went on a Wednesday around 12:30 during our lunch break. The restaurant was about half full. We were seated promptly by the hostess, and we started looking at the menus. After that it went downhill alarmingly fast. Nobody came by to take our order. We tried flagging down a waiter but to no avail. Finally, he came and took our drink and order. The drinks did come out. The food did not come out for another 25 minutes and nobody came to update us. We got our food, but there was no mac and cheese, nor any bread/pickles/onions. The side item came out a few minutes later but the bread failed to show up. We asked for it again, and the waiter brought it over near the end of our meal. Needless to say, we weren't check up on once, and our waters remained empty. We asked another waitress for our check, since we couldn't find our waiter. She was about to ring us up, but then found him and told him to do it. He forgot what we had ordered, got flustered, handed us our separate receipts, but couldn't find a pen. I told him it was ok because I had one on me. My friend was charged an extra $6. This took even longer to clear up. After 10 minutes, our waiter admitted his mistake, apologized and handed over $6 in cash, since the credit card had already been charged. He asked us to not tell his manager about our frustrations. We felt badly for him, but were also eager to get back to work…we had been there for 1 hour and 45 minutes. The service here can be summed up in two words: inept and slow.
Ambiance (4/10)
Mr. Bones is located in a nice strip mall across from Dell Childrens Hospital. There are quite a few food places within walking distance. It's a casual place with a good amount of tables and chairs. The walls are kind of bare and could use some décor, but they do keep the inside clean. This restaurant is lacking in personality and we hope they are able to add a little pizzazz of their own to it. Until the food, service and ambiance improve, we doubt we'll be back anytime soon.