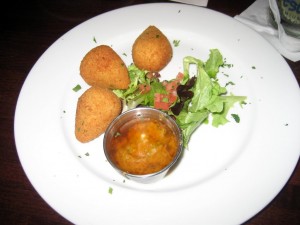 Restaurant: Sampaio's Brazilian Cuisine
Location: North Central, 4800 Burnet Rd, Austin, TX 78756Map
Phone: (512) 469-9988
Price: Lunch $10-$12, Dinner $18-$25
Hours: Sun – Thurs 11am-10pm, Fri – Sat 11am-11pm
Food (5/10)
(5/10) Coxinha de Frango
Seasoned, diced chicken breast with cheese, rolled up into a pastry. Served with spicy malaqueta vinaigrette on the side. This basically tasted like fried cheese balls. And there were only 3 of them…now granted it was happy hour – but still very small portions. We love cheese but expected more for the price and since its supposed to be Brazilian food. Also, the malaqueta vinaigrette is pretty oily and lacked in flavor.
(5/10) Mandioca Griddles
Yucca cakes seasoned with Portuguese herbs and cheese, lightly pan fried. Served with a spicy tomato vinaigrette. We were excited to have authentic Brazilian food but we honestly felt we were eating a piece of deep fried potato with tomato sauce and cheese on top. Yucca can be savory but Sampaio's let us down again. Will we have better luck with the next dish? Read to find out…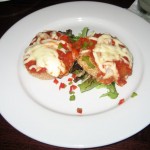 (5/10) Marisco ao Molho Verde
Mussels sauteed in a verde-anise garlic butter sauce and served with crostini. Oh no another disappointment! Although this dish had a lot of mussels, the garlic butter flavor just didn't come through. The only fun part was dipping the crostini (thinly sliced, toasted white bread) into the soupy sauce and enjoying the crunch.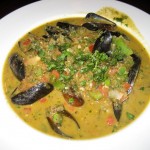 (8/10) Pastel de Frango Com Passas
Delicate pastry stuffed with chicken, raisins, corn cilantro and cheese. Served with mango relish on the side. Finally, a dish that is better than average! The outside of the pastry is warm and soft and the corn cilantro is a nice addition. The mango relish complemented the pastry well, and there was not a crumb left on our plates.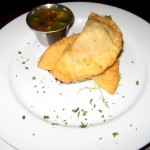 Service (7/10)
We went during happy hour, where Sampaio's advertises half-priced appetizers. We were promptly seated and the hostess, bartender and waiter were all nice. The waiter offered suggestions when prompted, and he checked up on us often enough. Our dishes were brought out on a timely manner, but to be fair we should note that the restaurant was almost empty.
Ambiance (7/10)
Sampaio's has booths and tables, bar seating and an outside patio. There are only a couple parking spaces outside so you may have to park on a side-street. The interior has a dark wood, upscale feel to it. But you can dress casual or dress up a bit – either would be fine. They left the doors open so there was a gentle breeze and it felt nice. The atmosphere may have been more energized if there were more patrons dining. The quality and quantity of the appetizers weren't special, but perhaps the entrees are better. Either way, there are too many other places to try in Austin!