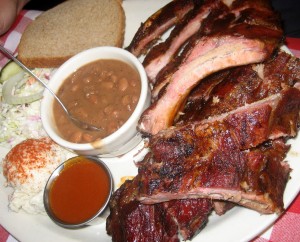 Restaurant: Artz Rib House
Location: South Austin, 2330 South Lamar, Austin, TX 78704 Map
Phone: (512) 442-8283
Price: $6-$14
Hours: Mon – Sat 11am-10pm, Sun 12pm-9pm
Food (8/10)
(8/10) Mesquite Smoked Baby Back Ribs
You can order a half or a full rack, and Artz Rib House is quite generous with their portions. The ribs are thick, juicy, tender, and have a great smokiness to them. There was some tangy barbecue sauce on the side that complemented it well. There wasn't even one fatty piece – how impressive! The bean soup tasted as if it were made with a lot of lard – gross.
(10/10) Artz South Austin Cheeseburger
Comes with grilled onions, jalapenos, bacon, lettuce, tomatoes, mayonnaise/mustard and one side item. We had the burger cooked medium, without jalapenos and chose the potato salad as our side. This is one of the best burgers we've ever eaten. The beef was delicious and a little smoky – it just melted in our mouths! The potato salad was solid.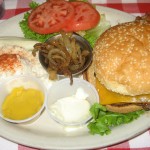 (6/10) Sweet Potato Pecan Pie (A la Mode)
This pie is definitely sweet but the pecans are kind of chewy/stale tasting. It went well with the ice-cream though. We suggest trying a different dessert.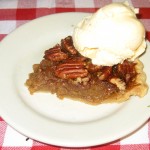 (6/10) Raspberry Peach Cobbler (A la Mode)
This cobbler proved strange because it resembled a square-shaped, spongy cake with bits of raspberry and peach inside. It didn't taste as a cobbler should, yet it didn't taste badly either. Just a simple, mediocre dessert.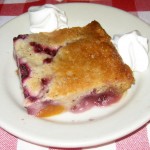 (6/10) Service
We were seated quickly and our waiter was pretty friendly. The first drink came out on time but the second one took much longer. The waiter did check up on us once or twice, but it took a little while to get our bill at the end of our meal. Overall, the service was fine and we only had minor issues.
(6/10) Ambiance
Artz Rib House has plenty of parking available. It looks like a large shack/barn from the outside, and has a country diner feel on the inside. There are many tables indoors and a couple outside as well. It's woodsy, clean and casual – good for small or large groups. Sometimes a restaurant's name is an indication of what they do best. We'd skip dessert here but the ribs and burgers are reason enough to come again!