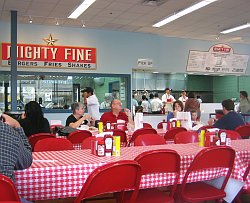 Restaurant: Mighty Fine Burgers, Fries, Shakes
Location: North Austin, 10515 Mopac Expy Austin, TX 78759 Map
Phone: (512) 524-2400
Price: $4-$6
Hours: Sun-Thur 10:30am – 9:30pm, Fri-Sat 10:30am – 10pm

Food (5/10)
(6/10) Cheeseburger (1/2 lb)
Mighty Fine Burgers has a simple menu resembling the amazing West Coast burger joint, In-N-Out Burger.  There are two types of burgers to choose from: hamburger and cheeseburger and each come in 1/4 lb and 1/2 lb varieties. We opted for the 1/2 lb cheeseburger with everything except pickles and mustard.  For a place called Mighty Fine Burgers, we expected to sink our teeth into one of the best burgers ever. However, what we got was a McDonald's burger with a bigger patty. The 1/2 lb patty was a treat, but was missing the "grilled" smoky flavor that you get from Fuddruckers. If you are looking for slightly better than fast-food quality burger, at a decent price, then we'd recommend this place.

(5/10) Fresh-Cut Crinkle Fries
Mighty Fine offers one type of french fries on their menu, fresh-cut crinkle fries. When we read "fresh-cut" fries, we think of warm, thick potatoey fries.  Unforunately, these fries are very thin and are more crunchy than potatoey. They are not batter dipped or seasoned, so the flavor is plain.  McDonald's fries tops over these any day.
Service (6/10)
Mighty Fine is a fast-food type place where you place your order at the cashier and then wait for them to call your name when the food is ready. We went here during a busy weekday lunch hour so the lines were quite long. However, the line moved quickly and it took about 10 minutes for our order to come out.
Ambiance (6/10)
Mighty Fine is a casual burger joint with cafeteria-style seating.  Since it was packed, we had to sit right next to other people which means no privacy. There is a glass window as part of the kitchen so you can watch employees weigh and shape the burger patties.