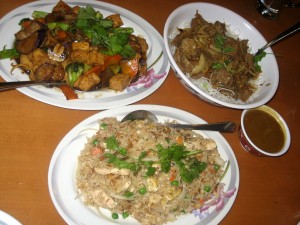 Restaurant: Triumph Cafe
Location: Northwest Austin, 3808 Spicewood Springs Austin, TX 78759 Map
Phone: 512-343-1875
Price: $5-$10
Hours: Mon-Thur 7am – 9pm, Fri 7am – 10pm, Sat 8am – 10pm, Sun 9am – 3pm

Food (8/10)
(6/10) Vermicelli with Curry Beef
Whenever we visit Triumph Cafe, we always get the chicken version of this dish (which is amazing!), so this time we decided to try something a little different. As with all their vermicelli dishes, this comes in a large bowl which can easily feed one and a half people. The noodles are cooked just right and the curry sauce is addictive, however the beef was too chewy. The chewiness took away the joy of eating this dish so we asked to swap it out with the chicken version and the waiter took care of it without hesitating.
(8/10) Vermicelli with Curry Chicken
As mentioned in the previous section, this dish is amazing. The noodles are soft and juicy, the chicken is tender and plentiful, and the curry is extremely flavorful.  For those that prefer more spice, try adding some Sriracha sauce. Fish oil also compliments this dish.
(8/10) Fried Rice with Chicken Teriyaki
The fried rice at Triumph is by far the best in town! The portion size is huge and comes with your choice of chicken, beef, shrimp, combo, and tofu. We opted for the chicken which also comes with peas, carrots, and onions. The chicken was slightly more dry than usual but the dish was still delicious. Try this (or the combo) out and you will be in heaven.
(7/10) Sesame Tofu
If you are a vegetarian or a carnivore who wants to add some veggies to your diet, we recommend this one. This dish comes with soft (but not too soft) tofu, eggplant, mushrooms, carrots, broccoli, and a handful of noodles. The sauce is delightful and this dish goes well with steamed rice.
Service (8/10)
The staff at Triumph Cafe is very friendly and always timely in fulfilling requests (extra sauces, to-go boxes, etc). The ordering process is efficient and the food arrives quickly. As mentioned earlier in the review, we disliked one of the dishes and they replaced it with a dish of our choice and remained pleasant the entire time.
Ambiance (7/10)
Triumph Cafe is a unique Asian restuaurant which provides more than just food. Here you can buy goodies such as chocolate chip cookies, neckties, and coffee beans.  Indoor and romantic patio seating is available, as well as free Wi-fi internet. On weekends, there is even live performances by local Austin musicians. This cafe has it all!