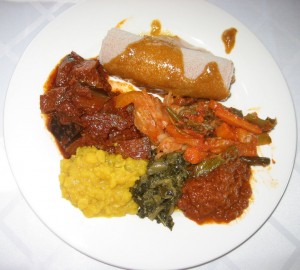 Restaurant: Taste of Ethiopia
Location: Pflugerville, 1466 Grand Ave Pkwy, Pflugerville, TX 78613Map
Phone: (512) 251-4053
Price: $10-$18
Hours: Mon-Sun 11am – 10pm
Food (8/10)
(8/10) Kitfo
Finely chopped beef seasoned with chili pepper served rare, medium or well done topped with specially prepared butter. We asked for our meat to be prepared medium-rare, but it was closer to medium. The beef was spicy and savory, and served on a large round injera bread (a pancake like, soft flat bread). Also atop the injera bread were collard greens, cottage cheese and a small salad. Combining the succulent beef and cottage cheese is a great idea because it's absolutely delicious.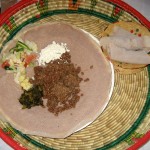 (8/10) Fesolia
Mixed vegetables stew of string beans, carrots, tomatoes and onions deliciously seasoned with garlic, ginger and turmeric. You use your hand to take a piece of the injera bread, grab some of this vegetable medley and put the delightful result in your mouth. The fesolia is yummy and will leave you more than satisfied.
(8/10) Tikil Gomen
Lightly spiced cabbage, carrots, onions and tomatoes stewed in a mild sauce. The beauty of this dish lies in its simplicity…it's very tasty and all the ingredients complement each other very well.  It tastes great alone or with the addictive injera bread!
(9/10) Yemisir Wot
Zesty lentil splits slowly cooked in a flavorful chili pepper sauce with red onions and a blend of traditional spices simmered to perfection. This hearty lentil puree tastes slightly smoky, but in a good way. Another great dish not to be missed at Taste of Ethiopia.
(5/10) Gomen
Chopped Collard Greens streamed and seasoned with garlic, jalapeno peppers and traditional spices. This garlic flavor dominated this dish, and it tastes slightly mustardy for some reason. It wasn't our favorite, but we'll give it another try on our next visit.

(8/10) Ater Kik
Split peas simmered in a mild and flavorful herb sauce and turmeric. The flavor of this dish is definitely milder than the other veggie plates, but still possesses a pleasant favor. A good balance because some of the other dishes are a bit spicier.
(8/10) Eggplant Wot
Eggplant slowly cooked in a flavorful chili pepper with red onions and a blend of traditional spices simmered to perfection. The eggplant is tasty and practically melted in our mouth! This was one of our favorites – we could easily eat it as a whole meal.
Service (10/10)
The service can be summed up in two words…refreshingly amazing! We don't give out many 10's but this one is well deserved. Winnie and her husband are the owners, and they make all the food themselves. They also wait the tables and check on everyone often. Winnie is sweet and personable – she makes an effort to get to know her patrons and personalizes your dining experience. After finding out it was our first time trying Ethiopian food, she offered us some samples. She also explained how to eat the food. Winnie is genuinely friendly and accommodating…we left with a full belly and a smile on our face.
Ambiance (8/10)
Taste of Ethiopia is a small, casual cafe that is good for small or large groups. The decor is simple and traditional. Although the atmosphere is casual, we felt like we were in a faraway land because of the authentic vibe. Another plus is there are a lot of vegetarian options at this restaurant. If you enjoy Indian cuisine, you'd also enjoy Ethiopian food because they share many similar spices. One thing to keep in mind is that you will eat this mouth-watering food by hand (not silverware). For a unique and tasty culinary experience, put Taste of Ethiopia at the top of your list!