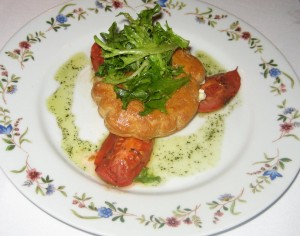 Restaurant: Aquarelle
Location: Downtown, 606 Rio Grande, Austin, TX 78701 Map
Phone: (512) 479-8117
Price: $30-40
Hours: Tues-Thurs 6pm – 9pm, Fri-Sat 6pm – 10pm
Food (7/10)
(9/10) Herbed Laura Chenel Goat Cheese in Butter Puff Pastry (Appetizer)
Puff pastry filled with goat cheese, served with roasted plum tomatoes, frisée salad, and thyme infused extra virgin olive. There is one word that describes this dish – delicious! If only we could order a giant entree of it. The pastry is soft, yet crispy on the outside and the goat cheese stuffing is mouthwateringly creamy. The side of roasted plum tomatoes is juicy and sweet and the salad atop the pastry is aesthetically pleasing. We urge you to try this out, but be warned that it will leave you wanting more!
(4/10) Lamb Chops
Lamb chops served with spicy onion compote, mint gnocchi, and lamb jus. This is not a dish we see often, so we decided to order it. We had the lamb cooked medium, however the three small pieces of lamb were fatty and difficult to chew. It was so unpleasant we nearly sent it back! The reason we didn't is because sadly, the onion compote and gnocchi were the best part. The actual flavor of the lamb was OK, but there was a very little amount of meat. Proceed with caution when ordering this.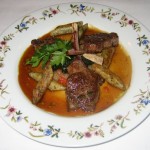 (8/10) Mille-Feuille of Beef Tenderloin
Beef tenderloin, asparagus, crimini mushrooms, Roaring Forties bleu cheese, puff pastry, with madeira demi. Upon reading the description, we instantly recognized the uniqueness of this dish. It is flawlessly prepared and presented artistically in a tower-like formation with several layers (See picture below). We chose the beef to be cooked medium and it was tender and full of flavor. The sweet madeira demi sauce added pizazz to every bite. Combine it with blue cheese and the puff pastry and your tastebuds will have a reason to celebrate. One gripe we had is that the tenderloin was slightly tough and gamey, but this isn't enough to deter us from ordering it next time.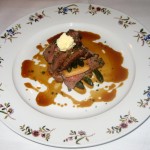 (7/10) Hot Chocolate Soufflé Cake
Comes with orange sauce suzette, and a scoop of house-made vanilla ice cream. This small soufflé was light and fluffy with a chocolaty center. This is neither a heavy dessert, nor an airy one – it is in the middle. We did not care for the orange sauce too much because it seemed tart and did not go well with the cake. The vanilla ice cream had the texture and taste of a sorbet, but a creamy ice cream would have complemented this soufflé better. Perhaps the fromage (cheese) plate is a winning dessert because they did use a fabulous blue cheese in the beef tenderloin entrée!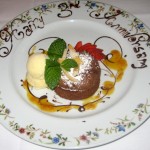 Service (8/10)
Aquarelle has the distinction of being known as one of the finest restaurants in Austin. For the most part, it is well deserved. We made reservations and the friendly host seated us promptly. Our waiter was unpretentious, professional and had great insight about the ever-changing menu items. He was attentive without being intrusive. The chef provided a small welcome appetizer and later during the night – a few bites of papaya sorbet to cleanse our palate before dessert. Nowadays, these gestures seem like it is the norm at fancy restaurants – but still appreciated. Since it was a special occasion, they wrote on our dessert and graciously took pictures of us throughout the evening. One vice is that our plates were whisked away pretty quickly, and we would have liked to savor every last bite at a more leisurely pace – which is typical of most European eateries.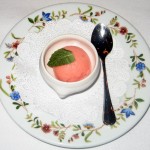 Ambiance (8/10)
Aquarelle is a quaint, charming, private-feeling French cottage, with a small garden in the front. Parking is challenging because the restaurant is downtown, so there is street parking or valet. There are two rooms inside; One is brighter and has a few tables and bar seating, and the other room is dimmer, intimate and romantic. Elegant pieces of art adorn the walls. The inside also features wood-planked floors, tall ceilings, white linens, and fresh-picked flowers on the tables. There is some soft but upbeat Yves Montand-esque French music in the background, which added to the ambiance nicely. Aquarelle is one of the more expensive restaurants in Austin and would be in the "special occasion dining" category for most of us. We dined here on our anniversary and enjoyed it, but prefer Paggi House or Wink more.