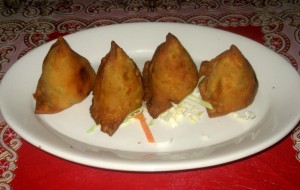 Restaurant: Chola Indian Restaurant
Location: Round Rock, 2601 S IH-35, Round Rock, TX 78664 Map
Phone: (512) 244-2222
Price: $8-$12
Hours: Mon-Fri 11am – 2pm, 5pm – 10pm, Sat-Sun Noon – 3pm, 5pm – 10pm
Food (6/10)
(5/10) Vegetable Samosa
Potato and peas stuffed inside a fried crispy shell. Imagine a deep fried vegetable hot pocket.  This staple is available at every Indian restaurant, but has also popped up in other cuisines as well. Out of all the samosas we've had (literally hundreds!), these are slightly below average. The outer shell was too thick and tough rather than flaky.  The stuffing had a good flavor and right amount of spice, but the potatoes were too mushy liked mashed potatoes. These reminded us of frozen samosas so we recommend you choose a different appetizer.
(8/10) Chicken Tikka Masala
Chicken in a creamy tomato sauce. This is an excellent dish and ended up being our favorite entree here. The chunks of boneless chicken are tender and soft with no chewy or fatty pieces. The sauce is savory and has plenty of spice. Unfortunately, it only comes with 10-12 small pieces of chicken.  Although all that extra curry goes great with rice and naan! Also, we asked for this to be less spicy but it still came out very spicy! This is a top-notch dish that rivals Chicken Tikka competition from fancier Indian restaurants.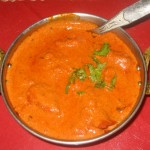 (5/10) Lamb Rogan Josh
Curried lamb with Kashmir chili, paprika ginger and creamy yogurt. This dish looks remarkably similar to the Chicken Tikka except for the curry color is slightly darker. This dish only had 8-10 pieces of boneless lamb, but some were slightly chewy/fatty. The flavor of the curry was not as strong or delectable as the tikka masala, but it was still average. This dish has a lot of potential, but loses points due to inconsistent pieces of meat and the small portions.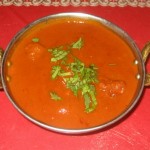 (6/10) Kadai Bhindi Masala
Okra in onion tomato gravy with blend of spices. This dish is loaded with delicious flavor, but is also very spicy. There is very little okra in the dish, but there is plenty of onions and bell peppers. It is also on the oily side so we had to drain some of it. The portion size is tiny just like the other dishes here.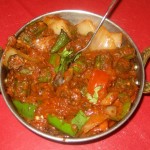 (8/10) Naan, Garlic Naan & Onion Kulcha
Garlic Naan is bread topped with grated garlic and cilantro. Onion Kulcha is an onion stuffed bread that is baked in a tandoor at Chola.  Usually, naans come in two varieties: soft, fluffy, bready or thin and dry. Well, Chola introduces a new kind to the mix – soft and crisp at the same time. It actually reminded us of pizza crust (not that there's anything wrong with that). It was very tasty and complemented the food very well. The garlic one had a subtle, yet noticeable flavor to it. The kulchas were very soft and had plenty of onions. Do yourself a favor and try out a couple of different kinds!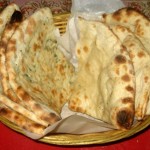 (5/10) Gulab Jamun
Warm, fried cheese balls in a sweet flavored syrup. This is our all-time favorite Indian dessert, so we had to give it a try. The gulab jamuns were served piping hot and were very soft. In fact, it was too soft to enjoy fully and had soaked up too much syrup, and seemed a bit hollow inside. There was hardly any substance to it. Also, the syrup was not as thick as usual and reminded us of rasgullas. We'll pass on this next time.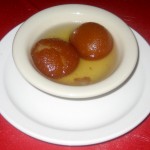 Service (5/10)
The service here was very mediocre. We dined on a Friday evening and were seated immediately at a table. We received our menus, and it took a while for someone to get our drink orders. None of the waitstaff seemed friendly, but they were professional. Our food did come out on a timely manner. During our time there, we weren't checked up on and had to flag waiters down to ask for more naan or to get a napkin. The busboy did refill our waters without us flagging him down. We had asked for the Chicken Tikka to be made less spicy but it still had our friends sweating! Another irritating happening is that they brought out dessert without taking away our empty plates or the empty metal bowls the food came in. Not only was the table over-crowded, it was unappetizing to see the lamb curry right next to the gulab jamun and a tall glass of mango lassi. The service could definitely use a few touch ups here and there.
Ambiance (7/10)
Chola is located in a large strip mall, in close proximity to a Home Depot. The outside is unassuming, but the inside is nicer that you would expect for a restaurant in this strip mall. There is one large dining area with tables and booths. The restaurant is clean and comfortable. There are pretty chandeliers dangling from the decorated ceilings, and there were some Indian wall-hangings. When on the inside, you wouldn't know that there is a Walmart right around the corner! One faux pas is that our four dinner plates did not match. Also two of the four plates had big chips in it that caused sharp edges. These of course don't take away from the food, but is still important to note. Chola is good for couples or groups, but not for newcomers to Indian cuisine because the waiters aren't helpful in answering questions about menu items.