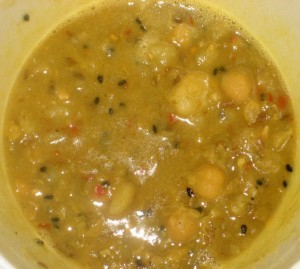 Restaurant: Tandoori Hut
Location: North Austin, 13717 North Mopac, Austin, TX 78727 Map
Phone: (512) 238-0500
Price: $5-$10
Hours: Mon-Fri 11:30am – 10pm, Sat-Sun 12pm – 10pm
Food (7/10)
(6/10) Aloo Chole
They give a generous portion of chole (chick peas) which is enough to last a few meals! The chole is similar to dal (lentil soup) in texture and pretty spicy. Although we didn't get naan (round flatbread), the chole would have tasted good stuffed inside a warm buttery piece of naan.
(7/10) Chicken Jalfrezi
This chicken curry is marinated and fried in oil and spices to produce a dry, thick sauce. It is spicy and delicious! Jal means hot and this dish sure lived up to our expectations. It also had peppers, diced onions and tomatoes. Our only complaint is that it's too oily.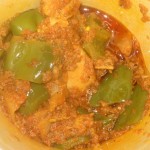 Service (7/10)
We ordered our food to-go, so we are unable to give a full review of the service. However, the owner happily explained the dishes to us and brought our order out in a timely manner.
Ambiance (5/10)
Tandoori Hut is a clean and simple restaurant with plenty of seating. The table and wall decorations are nearly non-existent but don't let that turn you away from this place. Tandoori Hut offers lunch and dinner buffet daily, but patrons can order off the menu as well. The restaurant is located in a strip mall where parking is not a problem.