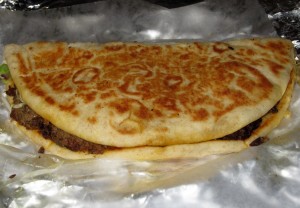 Restaurant: Tarka Indian Kitchen
Location: Round Rock, 201 University Oaks, Round Rock, 78665 Map
Phone: (512) 246-1922
Price: $8 – $12
Hours: Mon-Thurs, Sun 11am – 9pm, Fri-Sat 11am – 10pm
Food (7/10)
(8/10) Shredded Lamb Naanini
Freshly sautéed ingredients stuffed inside a naan, perfectly toasted. Served with masala fries or a green salad. The naan was soft and crispy in all the right places, and the tender lamb was seasoned very well. Tarka actually means "to season" in Hindi. We chose the small salad that has garbanzo beans sprinkled on top and it tasted fresh. The vinaigrette like dressing complemented it well. We enjoyed Tarka's delicious twist on the panini and would order it again.
(7/10) Chicken Vindaloo
Tangy onion and tomato sauce sauteed with bell peppers & potatoes, finished with tamarind chutney. Served with Basmati rice. We ordered this medium spicy but it turned out to be more mild. The flavor was pretty good, and the chunks of chicken were cooked nicely. The portion of this entree is adequate for the price. The rice was good and is meant to be eaten with the chicken.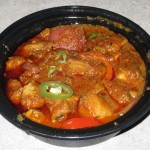 (7/10) Channa Masala
Zesty garbanzo bean curry with sauteed onions, tomatoes, garlic and ginger, garnished with cilantro. Served with basmati rice. We ordered this medium spicy and it actually did have a good kick to it! It was quite delicious. The garbanzo beans were a bit on the hard side. Still, the curry part of this veggie dish was addictive. Since we had extra rice, we used that to soak up the curry part.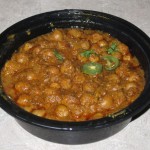 Service (6/10)
We ordered our food online and went to the restaurant to pick it up. The cashier was nice enough, and charged us the correct amount for our meal. There was a gentleman behind her who seemed like the manager, and when we said hello – he gave a quick nod of acknowledgment in return. Again, not friendly but not unpleasant. The cashier asked us if we wanted plasticware and napkins included in our bag. We thanked them and went home to enjoy our food.
Ambiance (8/10)
Tarka is located in a new shopping mall that is adjacent to Ikea. Patrons order up at the front and then seat themselves where they please. Clean lines, earthy tones and soft lighting help to create a cozy, slightly modern atmosphere. The walls are decorated with unique pictures of India and artsy shots of spices. It adds to the authenticity of this restaurant, while innovative menu items such as the "Naanini" give it some flair. Tarka also had a sports game showing on a television in the corner. They serve some wines and beers too. It is good for couples and groups. The original Tarka is in South Austin, so now the folks up North can enjoy it too!