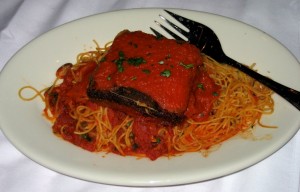 Restaurant: Maggiano's Little Italy
Location: Domain, 10910 Domain Drive, Austin, TX 78758 Map
Phone: (512) 501-7870
Price: Dinner: $15-$35
Hours: Mon-Thurs: 11am – 10pm, Fri-Sat: 11am-11pm, Sun: 12pm – 9pm
Food (7/10)
(6/10) Eggplant Parmesan
Provolone and marinara sauce with a side of spaghetti pomodoro. The portions are generous. Unfortunately, the eggplant was missing some oomph in the flavor department. It was cooked well and had a nice texture. The spaghetti was yummy and the two complemented each other well. This was a ho-hum dish, but since it's part of the "Today & Tomorrow" specials – it turned out to be a great deal. For the price of one dinner, you get one entrée today and another partially cooked one packaged to go! We got the ziti for our second "to go" dish.
(7/10) Taylor Street's Baked Ziti
Italian sausage with four-cheese blend, cooked in a pomodoro sauce. The pasta was cooked inconsistently, as some pieces were hard and other pieces were soft. The soft pieces were of course better. There wasn't adequate sausage to balance out the pasta, but when we were able to find them they were delicious. This dish was just cheesy enough, which is nice because several Italian restaurants over-cheese their noodles. Overall a decent dish, but we were still hunting for one that would leave an impression on us.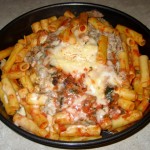 (8/10) Four Cheese Ravioli
Ravioli stuffed with ricotta cheese, cream cheese, mozzarella and provolone filling, sprinkled with house cheese, then browned in the oven and served in pesto-alfredo cream sauce with a touch of marinara. The ravioli was savory and fun to eat. We did have to ask for more pesto-alfredo sauce – which went very well with this dish. We could have eaten the pesto sauce as if it were a soup –  it's really that good. Again, the portions are generous and the food tastes fresh. Alas, we found a winner.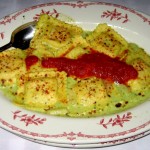 (7/10) Broccolini (Side Item)
This vegetable was seasoned with salt, pepper, butter and little pieces of roasted garlic. It doesn't get too much better than this as far as vegetables go! It was definitely a healthy alternative to all the carbs we consumed earlier, and balanced out the mouth-watering garlic bread we had as an appetizer. The garlic bread was super addictive and practically melted in our mouth!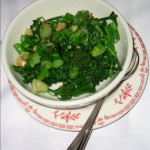 Service (8/10)
We were part of a large birthday group that dined on a weekday evening. The hostess seated members of our party with a smile on her face. Our waiter patiently took our orders, and Maggiano's agreed to splitting our checks. The restaurant even let half our group order family-style and the other half order from the menu. Our waiter seemed a little flustered at times and didn't explain the Today & Tomorrow Special very well, so someone else came out to clarify. The food came out in a timely manner. Waters were refilled effortlessly and we were checked on several times by different wait-staff. We observed the wait-staff to be very courteous.
Ambiance (9/10)
Maggiano's Little Italy is located in the Domain and could be considered upscale casual with warm ambiance. Parking is available in the free garages, or if you are lucky, in a spot right outside the restaurant. The décor features mood lighting, richly polished mahogany woods, high ceilings adorned with crystal chandeliers and walls decorated with framed family portraits and cartoons. The lavish rooms have tables with checkered red and white tablecloths, and crisp white table-runners. It's reminiscent of what a cozy Italian restaurant would look like several decades ago. It's good for groups who want to dine family-style, but can also be great for an intimate date night if seated in one of the side booths. If you have a hankering for some good Italian food, Maggiano's has a wide-variety and seems to have something for everyone.