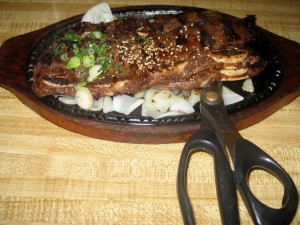 Restaurant: Korea House Restaurant & Sushi Bar
Location: North Central, 2700 W. Anderson Lane #501, Austin, TX 78757 Map
Phone: (512) 458-2477
Price: Lunch: $6-10 Dinner: $10-20
Hours: Mon – Thurs 11am-10pm, Fri – Sat 11am-11pm, Sun 12pm-10pm
Food (5/10)
(5/10) Bul Gal Bi
Sliced beef short ribs marinated in special Korean sauce. This dish comes with about 10 small sides, such as kimchi, pickled zucchini, sweet potato, soybeans, shredded radish, etc. The short ribs have a great sweet bbq flavor to it. They gave a good amount too. There are two downsides to this dish though. One is that there is a lot of meat stuck on the bones, which is probably why they give you a huge pair of scissors right on the plate. The second unfortunate thing is the beef is pretty fatty!
(6/10) DolSot Bi Bim Bap
Vegetables, shredded beef and a fried egg served over steamed rice in a hot stoneware (DolSot) bowl, with a dollop of chili bean paste. This is a fun meal because of all the different ingredients. It is slightly lacking in flavor, so we added a little soy sauce. Also, the beef is very chewy/fatty.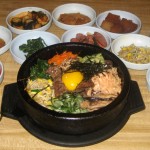 (5/10) Bulgogi Combination Plate
This plate comes with pork, chicken, beef, vegetable tempura, and eggroll a few california roll, salmon and tuna sushi pieces. This dish also comes with miso soup and a small salad. All the meats tasted decent, and surprisingly the beef and pork were not chewy/fatty. The chicken tasted flavorful. The sushi was horrible – it smelled like the ocean mixed with a hint of chemicals. We have become pretty familiar with sushi and think that the fish could be much better.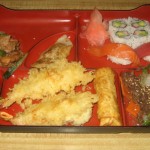 (6/10) Seafood Chap Chae
Stir-fried sweet potato noodles with vegetables, shrimp and baby octopus. The noodles were cooked just right and tasted slightly sweet. The quantity was plentiful, as we had to box our leftovers. A little hot sauce is needed to give this dish a kick.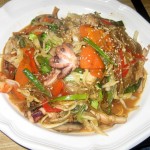 Service (4/10)
This is definitely not a service with smile kind of place. Our group came in and waited a few minutes to be seated. The hostess barely looked at us when she talked and our waiter was disinterested.  He did take our orders, and the food came after about 15 minutes. He checked up on us once. But our bill never came and we weren't told to go upto the register to pay. One person in our group was mistakenly charged 3 times, but they were able to fix it. All in all, the service seemed less than average, especially since the restaurant wasn't crowded.
Ambiance (5/10)
Korea House is hard to find because it's in the back area of a little plaza. Just look for Alamo Drafthouse and park near it! There are a few bar seats available but plenty of table seating, and the inside has a cozy, slightly run down feel to it. It's a very casual place because it's sparsely decorated and can be good for small or large groups. If you haven't had much exposure to Korean food, then this place may satisfy you. But if you have experienced spectacular Korean cuisine, Korea House will leave something to be desired – namely the quality and flavor of the meat.