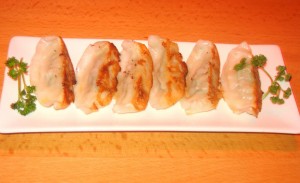 Restaurant: Momiji
Location: Northwest, 13201 RR 620 N, Austin, TX 78717 Map
Phone: (512) 219-7070
Price: $8-$16
Hours: Sun-Sat 11am – 10pm
Food (7/10)
(8/10) Gyoza
Pan fried pork dumpling.  This appetizer is an excellent choice to whet your appetite! The pasta shell is cooked properly and is not chewy at all.  The pork is tender and has the right amount of flavor. The browned portion of the dumpling that is pan-fried provides that extra oomph which will leave you craving more!
(7/10) Harumaki
Mini homemade spring roll. Harumaki is a Japanese egg roll that is deep fried and filled with vegetables. Inside, you will find cabbage, bamboo shoots, and mushrooms, among others.  Even though pretty much anything fried tastes good, these were exceptional.  It was served piping hot and everything from the outer shell to the stuffing was delicious.  It was served with an orange tangy sauce which we felt mixed about, but luckily the roll doesn't need any.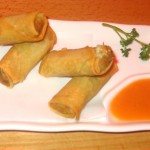 (6/10) Shumai
Steamed shrimp dumpling.  After our great experience with the previous two appetizers, this one fared average. Our biggest gripe seemed to be the texture.  From the inside out, the dumpling is soft and mushy – there is no distinct texture.  However, there is a strong, yet pleasant shrimp flavor. The soy-sauce based dipping sauce complemented the shumai well.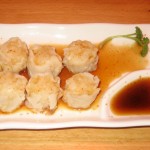 (6/10) Baked Avocado
Baked spicy seafood over half an avocado. We love the Avocado Kama at Musashino so we had to give this one a try! It started off looking not so good for Momiji. We immediately noticed that the avocado still had the sticker on it!  It blew our mind that the kitchen staff could not take one second to remove it – not a classy move.  The avocado was fresh and there are plenty of tempura flakes, crab sticks, and sauce.  We welcomed the flakes since it introduced a crunchy texture to an otherwise soft dish.  However, the ingredients did not mesh well together because the avocado overpowered the other flavors.  We expected it to be creamier. This dish definitely provides the best bang for your buck here, but taste-wise it does not come close to Musashino's baked avocado.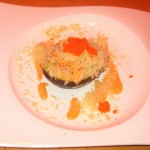 (7/10) Spicy Tuna Roll
Spicy tuna and cucumber. This is a simple roll in which the tuna is mixed in a spicy-sauce and then stuffed in the roll.  There is a generous amount of this mix compared to the amount of rice which was refreshing since the roll was on special for only $3.  The quality of the tuna was good with no fishy taste. The only negative we observed is that the seaweed was slightly chewy.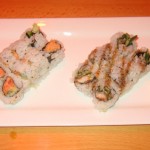 (5/10) Eel Roll
Eel with cucumber, topped with eel sauce. This roll was a bit below average due to the quality of the eel. This eel was not as firm as it should be and could be a reflection of its freshness.  Also, they skimped on the sauce as you can see from the picture.  Despite these concerns, we would probably order it again at the $3 bargain price.
Service (7/10)
We dined at Momiji on a Saturday night when they have their special $3 menu. When we arrived, the hostess promptly sat us in a booth and our waiter took our drink order. Our waiter was friendly and happily answered our questions regarding the menu.  When we asked him a question he did not know, he offered to find out from the chef. Throughout the meal, he came at appropriate times to check up on us and refill our drinks.  He even split our bill like we asked at the beginning of the night. Very solid service without problems!
Ambiance (6/10)
Momiji is located in a strip-mall on the corner of 183 and 620, across from Lakeline Mall.  You might not expect a Sushi restaurant to be here next to an IHOP, Lowe's, and Office Depot, however this place is worth visiting.  The interior does live up to its suburban location and reminds us of Sushi Nini in Round Rock because it lacks authenticity.  The ethnic décor is minimal and the table settings are very generic for a sushi joint.  Also, the lighting was not uniform throughout the restaurant so some areas were noticeable brighter than others. There are tables and booths available, but are limited.  Even though we pointed out these negatives, it is not fair to compare it to competitors because the sushi here is one-half or one-third the price!  On a positive note, the restaurant is very clean and tidy, and has a TV so you don't miss A big game. Also, free Wi-Fi is available. Parking is plentiful, but I would not recommend this place for large groups due to limited seating.  Be sure to take advantage of Momiji's $3 sushi specials daily – you won't be disappointed!