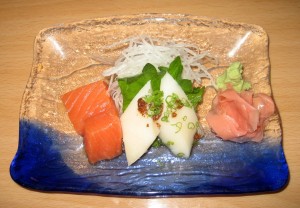 Restaurant: Sushi Nini
Location: Round Rock, 117 Louis Henna Blvd, Round Rock, TX 78664  Map
Phone: (512) 671-6464
Price: Lunch $7-$12, Dinner  $8-$25
Hours: Mon-Thurs 11am – 10pm, Fri 11am – 11pm, Sat 11:30am – 10pm
Food (6/10)
(6/10) Salmon Sashimi
Decent flavor, and not a uniform texture because it's slightly chewy around the edges.
(8/10) White Tuna Sashimi
Soft, buttery, and fresh! The tuna had tiny jalapeno rings scattered on top of it, which is not uncommon for this sashimi and added a delicious little kick to it.
(7/10) Grilled Eel Sashimi
It came out warm which was really nice. It tasted good but was a little too soft.
(5/10) Baby Dragon Roll
Grilled eel, avocado, cucumber, and topped with seasme seeds. This is under the regular rolls and not as pricey as the special rolls so we took that into consideration while reviewing it. It is an average roll, but the very chewy seaweed caused this one to lose a point.
(7/10) Red Devil Roll
This roll is under the special rolls. It has shrimp tempura, avocado, and crab outside with spicy mayo on top. While Sushi Nini really skimped on the spicy mayo sauce,  they are generous with the big pieces of shrimp on the inside of this roll. When we asked for more mayo sauce because the picture of this roll on the menu is drenched with sauce, our waitress agreed to not charge an extra 50 cents for it. All in all, a solid and yummy roll.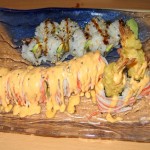 (4/10) Hot Rock Roll
Salmon, tuna, avocado, cream cheese fried roll with a small amount of spicy mayo and sesame seeds on top. This "special" roll should be in the regular roll section! But since its not we will review it accordingly. The hot rock roll had no distinct flavor. It did come out hot – and seemed to have so much potential, but then fell flat. Thank goodness it's on the happy hour menu and we didn't pay full price for it!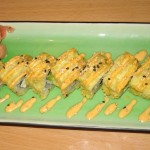 Service (6/10)
We were seated promptly because it wasn't too busy.  Since we ordered 5 minutes before happy hour officially began, the waitress waited to bring out our drink order. We thought it was a bit too technical.  Another complaint is that it took almost 30 minutes for our initial food order to come out.  We don't know what took so long since the restaurant wasn't crowded!  Overall, the service was ok but could have been better.
Ambiance (6/10)
What do you get when you cross a sports bar with a casual sushi restaurant? Sushi Nini. There is a sushi bar, fully stocked alcohol bar, indoor and patio seating available. Parking is not a concern because it's inside a strip mall. The decor includes Japanese lanterns, many televisions, bright beer signs and waitresses in short cheerleading type skirts. They play hip, energetic music in the background – a mix of r&b and pop. We noticed the chairs weren't very comfortable due to the seatbacks. It was nice to see patrons of all ages/ethnicities dining. The happy hour menu is impressive and offers several different selections, and the atmosphere would be good for small or large groups.