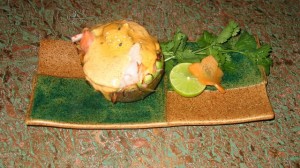 Restaurant: Musashino Sushi Dokoro
Location: North Austin, 3407 Greystone Dr, Austin, TX 78731 Map
Phone: (512) 795-8593
Price: $8-$25
Hours: Lunch: Tue-Fri 11:30am – 2:00pm Dinner: Tue-Thu, Sun 5:30pm – 10pm Fri-Sat 5:30pm – 10:30pm

Food (6/10)
(9/10) Avocado Kama
Half of a small avocado stuffed with shrimp, crab, and a delicious spicy sauce. On the dinner menu, there are "traditional" appetizers and "fusion" appetizers. This is part of the latter. There is a perfect balance between the avocado, seafood, and spicy sauce. Our only complaint is it's too small…at least give us the whole avocado!

(6/10) Miso Soup
Soy bean soup with tofu and scallions. It has a nice flavor to it, slightly better than the average miso soup. We only had one tofu piece in there and very little scallions. It is still a solid soup.
(7/10) House Salad
A salad consisting of lettuce, cucumbers and tomatoes topped with a tangy ginger dressing. It is pretty good and they were generous with the tomatoes.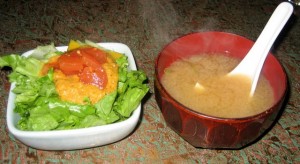 (6/10) Sashimi Deluxe
Salmon – The salmon is light and buttery – yummy! This one delighted our palates.
Big Eye Tuna – The tuna is awful. We are usually polite enough to swallow even a bad piece of fish…but this one had us both gagging. It's super chewy (think pure chicken fat) and had a metallic, salty taste to it. Apparently we could have upgraded to their other tuna for a fee, but we were told this after the fact.
Whitefish – It has a pretty buttery texture and topped with green peppers- we'd order it again.
Yellowfish – It is slightly rubbery and does not taste right. We doused it with soy sauce and wasabi.
Escolar – This was our favorite piece of sashimi at Musashino. It's fresh and soft and practically melted in our mouth.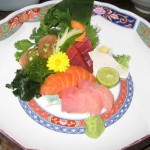 (5/10) Mutsu No Kasuzuke
Grilled Chilean sea bass marinated in sake rees with grilled asparagus and yams. The sea bass is soft and tender which is always enjoyable. As with a lot of fish we order in restaurants, we find it lacking in flavor. There is a very subtle flavor there, but combined with the tiny portions, it did not impress. Also, the union of sea bass and sweet potatoes struck us as odd – and our reservations were confirmed after trying this dish.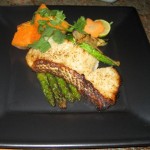 Service (3/10)
Musashino has the rudest, most unhelpful waitstaff we have encountered so far in Austin. The hostess was less than pleasant and our waitress was worse. She is in dire need of charm school and kept rushing us. We had a question about one of the items on the menu. She did not know the answer and did not offer to find out. She never asked us if we needed anything and only came by to take our plate away prematurely while we were still eating. The waitress failed to bring us a soy sauce dish and ginger for our sushi even though it was a slow night. This place was better a few years ago. For such a mid-high end restaurant, we were disappointed in the service.
Ambiance (6/10)
Musashino can be hard to find because there is no sign, but look for the sign that says Chinatown.  Chinatown is a bar area upstairs – a good place to start the night off with a drink.  Downstairs is Musashino, which has bar and restaurant seating available.  The Asian decor of dimly-lit paper lanterns and romantic wood paneling is cozy, but the tables are too close together and we wished there was a bit more breathing room.  This restaurant is good for couples or small groups.  Also, be prepared for long lines during peak hours because they don't accept reservations.  Overall, the innovative dishes are dwarfed by the mediocre fish quality…a sushi lover would be better off at Koreana Sushi & Grill.