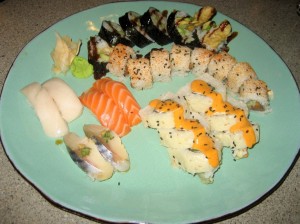 Restaurant: Origami Japanese Cuisine
Location: Round Rock, 110 N IH-35, Round Rock, TX 78671 Map
Phone: (512) 238-6522
Price: $8-20
Hours: Mon-Fri 11am-2pm, 5:30pm-10pm, Sat 5:30pm-10pm. Happy Hour Mon-Thur 5:30pm-7pm
Food (8/10)
(8/10) Spicy Tuna Roll
Chopped tuna with spices and cucumber, topped with black sesame seeds. This is a simple yet solid roll – and the tuna is indeed fresh and spicy! The seaweed in this inside out roll has a good texture and is not chewy. Overall, this is better than your average spicy tuna roll because the flavor really comes through and the portion is decent.
(8/10) Tiger Eye Roll
Fresh jalapeno, cream cheese and smoked salmon in soy paper with spicy mayo. This roll is as delicious as it sounds. This is one of the few rolls on the menu that is made with soy paper rather than seaweed, so there is no need to worry about chewiness. The cream cheese, combined with the spicy mayo make this roll very creamy and mouthwateringly addictive! Don't let the jalapenos and spicy mayo scare you away, it will not set your mouth on fire or anything like that. Give this roll a try and you will surely devour it like a tiger!
(6/10) Spider Roll
Soft shell crab tempura, avocado and cucumber with teriyaki sauce. This is a roll we have tried at other restaurants, so we wanted to give it a go here. Unfortunately, this was our least favorite roll, due to the chewy seaweed. This made it very difficult and messy to eat, and the inside of the roll kept falling out everywhere. There is good news though – the avocado is good, the crab is soft and tasty, and the touch of teriyaki on top is subtle. Perhaps we will try this roll again but substituted with the soy paper.
(9/10) Escolar (Nigiri)
Fresh, buttery and slightly sweet – just the way we love! Be sure to order plenty of this, either nigiri or sashimi style. Keep in mind that during happy hour – $1 off of selected nigiri (and $2 off selected rolls).
(9/10) Salmon (Nigiri)
The salmon tastes fresh, and is soft and smooth. Origami cut the piece generously, which pleased us immensely.
(7/10) Mackerel (Nigiri)
It was tender, but we definitely needed to dip this one in soy sauce. It was our first time ordering mackerel and we knew going in that it could taste a little more "fishy." It did just a tad, and we preferred the salmon and escolar more because they have a more pleasant flavor.
Service (7/10)
We dined at Origami for happy hour on a weeknight. When we entered, we were greeted by the hostess and taken to our table. She was not very friendly, but did get the job done. Our waitress then came to take our drink orders and answer any questions we had regarding the menu. She was a happy, friendly, elderly, Japanese woman who had difficulty speaking English. As cheesy as it may sound, having her as our waitress added to the authentic feeling of our sushi experience. We had several questions regarding the menu since it was our first time, and although we struggled a bit to understand her, she pleasantly answered all of them. If we asked something she did not know the answer to, she asked someone else and let us know. There were a few other patrons dining, so it was nice and quiet. Our food came out in a timely manner. Our only complaint is that we had to ask for low-sodium soy sauce since none of the tables have them.
Ambiance (8/10)
Origami is located in a Round Rock strip-mall on IH-35 and has plenty of parking available. It's location and plain exterior, give off a simple, unassuming vibe. However, opening the door and stepping inside is like walking into a completely different world. The floors and tables are spotless and the wall colors are warm, subdued tones of browns and reds. There is decorative "fish" artwork peppered around the restaurant. Seating is available at the sushi bar, American-style tables, as well as Japanese-style seating. Japanese seating is in an enclosed area where you sit on the floor and dine. One advantage for Japanese seating at Origami is that there is a place to let your legs hang so you don't have to sit uncomfortably with them crossed. The table areas are divided into small sections by a low wall, giving a semi-private feel as you dine. It's good for couples as well as small groups. Origami is the nicest strip-mall Japanese restaurant we have been to and rivals some of the higher-end ones!